The Great White Pumpkin!
Almost finished! I just have to add the rest of the stem and it's done. I really like how it's turning out. It's supposed to have a constrasting color for the ribs, but I sort of like leaving the fabric showing instead [(whispers) and it saves time] ;)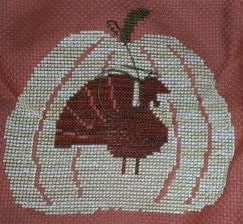 I would've gotten this done earlier in the week, but my home puter gave up the ghost and it's hard drive went to that great computer heaven in the sky. :D Ironic that it's so close to Halloween when it does this... hmmmmm... Anyhoo, I've spent most of my evenings researching on a replacement and costs, etc. Finally decided to have my brother repair it and get a new laptop for Greg. I'm sure we could've passed on the laptop, but he's been wanting one, so here's a good excuse. ;)
Greg's been working away on his Calla Lilies, and they are starting to look so pretty. We have a frame already picked out for it, it's going to look great. :)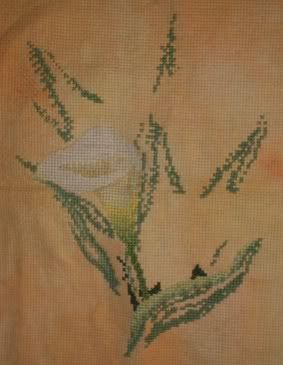 Hope everyone has a fun and safe Halloween weekend!