Happy Halloween Update!
I hope everyone is having a Happy Halloween! I got a lot done this weekend, made two pillows, loaded software onto our new computer and even found time to go shopping. ;) Below are pics of the white pumpkin project that I made into a pillow. This is the first "flanged" pillow I've ever made or a "ravioli" pillow as I like to call them. ;) I think it turned out great, but the outer flanges were a lot bigger than I would like, which makes it a bit floppy. But since I did this w/out a pattern and it's my first attempt I think it's pretty great. :)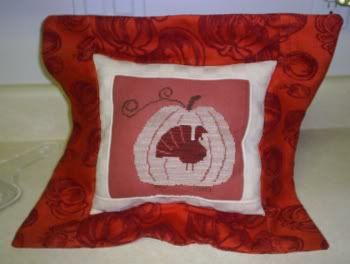 This is the back of the pillow, I love this fabric. I got it on sale and bought enough so I could use it again next year. :)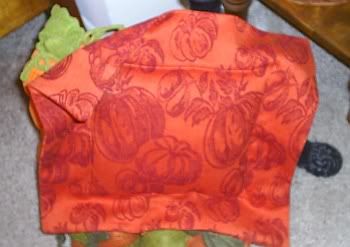 This is the second pillow I made. It has "devil" trim on it, in other words I had a devil of a time with attaching the trim. I had a heck of a time sewing this trim as it was WAY too thick for my sewing maching. But I managed to get it attached and all in all it looks pretty good. This is a project I made for the 4th of July but since I was moving then I never got it finished up. It makes a cute pillow and the "devil" fringe is a nice touch. :)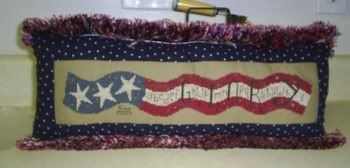 Here is the back of the pillow, very patriotic! ;) If you want to see larger versions of these pillows, go to my gallery and you can click smaller pics of the pics to see larger versions.
http://institches.zap3x.com/mystitching/2005completed.html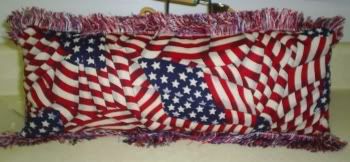 This is a freebie pattern that my LNS lady gave to me I made this as a Xmas gift for someone. It only took a few hours to complete, even w/ the specialty stitches.

And lastly I leave you with a pic of my "trying to be spooky" cat! Greg took this yesterday, he calls it "Cat Behind Bars" LOL I couldn't believe that Jesse just sat there and let him take her picture, she must've been in a photogenic
mood. ;)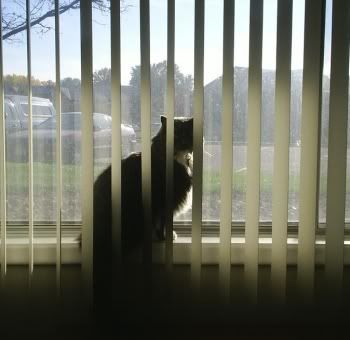 Have a safe and happy Halloween!