Non-Foaming Kitty
Thanks for all the comments about the "foaming" kitty post. LOL Apparently the rabies shots worked and now she's looking better. LOL, LOL I finished it this weekend and it is very cute, if I do say so. :)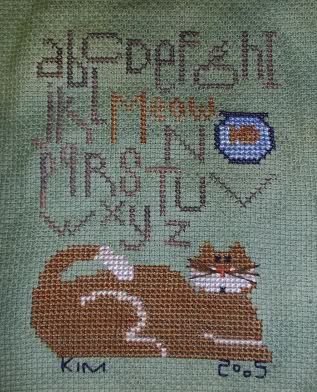 The wiskers and nose helped tame the foaming at the mouth effect and now she's just sweet ginger kitty. I am finishing this into a flat fold, which I did yesterday, but it's not quite complete yet. I have to re-purchase the trim for it. The stuff I got was WAY too thick...ah well live and learn. I got the cutest fabric for it and if you are a cat lover get ready to be "wow'd" ;)

I have to say though that I'm becoming less and less enamored of the flat fold finish. It's just not my cup of tea. It's not difficult to do, but I just don't care for the end results. I think I will stick w/ cubes or pillows or wall hangings, etc.

I am now in the Xmas phase of stitching! I started Bent Creek's Happy Xmas on Saturday and it's a fast stitch. I am using fabric that has silver threads shot through it so it's very pretty in real life, although hard to see in pics. I should have it finished in no time and I think I am going to try "sewing" a cube and possibly make it look like a present. We will see...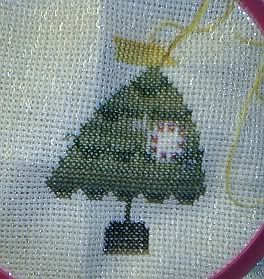 I got all my Thanksgiving decorations out yesterday, but I'm a bit disappointed as there isn't as much as Halloween and I'm sorta bummed that it's all over. Christmas will be here before you know it... These holidays just FLY by and it's fun, but a bit sad at times. I want to just SLOW down and enjoy each and every day. :)