We're All Mad Here
The world is a crazy place, but fortunately we have each other for company. :D
Before I show my latest update I thought I'd throw out a challenge for those that are interested! I was having my cup o' tea the other morning and was thinking how we are all such unique and distinct individuals. We all have our favorite things that define a bit of who we are and I wanted to share with you the cup that I have my tea in each morning. If you are so inclined, show us YOUR morning cup or your favorite cup. Here's one of mine: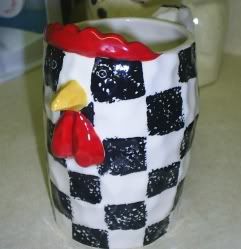 And before you ask, yes I have a fondness for chicken related items. I used to collect loads of chicken related stuff, before I became overwhelmed and overrun. :D
Now onto my update:
I am about 50% done with this project! Yippee! And last night I even managed to finish up most of the cat, but didn't have my camera for another pic. I love how this is going and I can honestly say I will be sad when it's done. I probably could've finished most of it by now, but find myself taking my time just so I can enjoy it. LOL This will be one project that I will always treasure. :D
The weather here is turning spring like, a bit warmer with rain predicted for today. But if it doesn't warm up a bit more it will more likely be light snow. ;)
I just read on the news that Dana Reeves has died from agressive lung cancer. She was 44. If you don't know who her, she was the wife of Christopher Reeves (aka Superman). She was such an inspiration to me, seeing how she stayed with him so lovingly during his illness. I remember when she announced she had lung cancer and I thought it was such a twisted irony, but had hopes that she would be treated and live many long years. I suppose her destiny was to join her husband. I don't know if I believe in an afterlife, but in this case I fervently hope that they are together and happy.