"'Oh my ears and whiskers, how late it's getting!'"
"Is it Tuesday already?" She asked. "Why yes it is!" She answered herself back. "What's gone and happened to Monday?" She inquired. "It's faded away, like the stars in the morning sky." She replied sadly, a little tear in one eye.
Alright, I confess to reading too much of Alice in Wonderland and Through the Looking Glass. It's amazing how quickly they can effect one's brain patterns. ;) LOL
Yesterday was Presidents Day and though I didn't "officially" have it off I took it as vacation. It was a nice relaxing day...I watched Elizabethtown and didn't get much stitching done. Poor Greg has caught my cold and is now quite sick. I'm better but still with a bit lingering on. It's a particularly nasty cold.
Last night (about 1:30 a.m.) I was woke up by the cat screeching and hopping about in front of the main bathroom. It freaked me out so I got up and turned on the light and there was water pouring from the bathroom ceiling, flooding the bathroom. Many towels and some frantic calls later, we found out that the tenants in the apartment above us had their toilet run over and the excess was draining down through the heater and air vents into *our* bathroom. It's a good thing I was woken up or we would've had a frightful mess. Now, because of the water the acoustic material that's on the ceiling is falling off and the maintenance people will have to come and replace it. I wonder if Jesse would be as good of an alarm during a fire? (Let us hope we never find out.) ;)
I made good progress on my project over the weekend, but slowed down on Sunday and Monday. This recent section is a lot of tiny bits of color so it's taking longer. I'm still happy with the overall appearance and really love all the purple in this. :D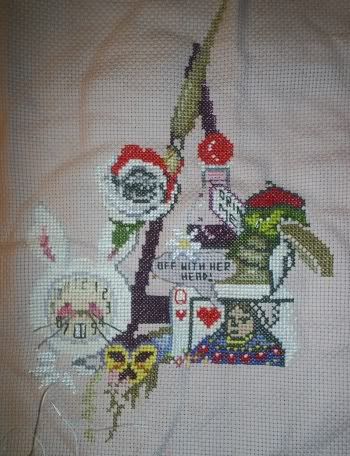 Still not sure about the beads and many thanks to
Jenna
for the clarification on matting versus spacers. I hadn't even heard of these plastic spacers before, so thanks Jenna for the insight! I did find some Kreinik threads that match the beads. I will probably just go with the thread so that I don't have to worry about making the frame work with spacers or mats, because the frame really isn't deep enough to accommodate these options. :D
Thanks again for all the comments and helpful hints! Hope y'all have a great rest of the week!