Begin at the Beginning
and Go On Till You Come to the End: Then Stop. - Alice In Wonderland
Wow is it Friday already? I have had a busy week...I've been taking some classes for work and have been out of the office a lot. I even forgot to take my camera home with me and so I don't have my finished picture of "What Is Home". Ah well, on Monday then. I do have the last update picture, which I never got posted.

I am glad to be done with this and will be happy to see it framed and on it's way. ;) It's a nice pattern, but just not to my tastes. I decided not to backstitch the rose, but instead filled in the middle with some darker stitches which I think accents it nicely. You should be able to see it in the next picture.
And now in case you are wondering why I am quoting Alice in Wonderland, my next project: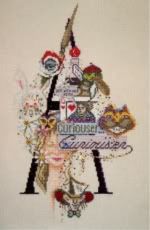 This pattern is from
Lynne Nicoletti
I absolutely
love
her patterns, and she has some stunning ones. I stitched her Oak Island Pirate map last year and it was quite a difficult stitch. This one should be much simpler. I started last night and it's going fairly quickly already. I am using a pretty light lavender 14 ct aida that I purchased some time ago for this project. It is looking great so far! Funnily enough I thought that I had (at some point) purchased all the threads I needed for this project, NOPE. I'm missing about half. LOL So off I go for floss. The colors in this are so pretty and not at all what I had expected. For example I thought that the "A" was black, it's not, it's a very dark purple. So I'm excited to get on with this one. I have a very special frame for this that Greg designed and his dad made for me. :D You can see it in the gallery if you like, under current projects.
Hope everyone has a fun weekend! Happy stitching!