My Lil' Stitching Buddy
With the exception of your online stitching friends, do you have any other stitching buddies?
Why yes I do have a stitching buddy! And in my honest opinion he's the best stitching buddy a girl can have - my husband! LOL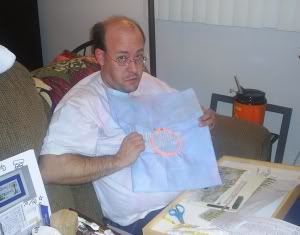 I mean how great is it to know that when I go stash shopping he's right there adding his own stuff to the pile and not complaining one bit about the cost. ;)
Even better, he's a great stitcher. Very intuitive and detailed oriented. He has lots of great ideas and suggestions and he's not intimidated at all about sharing his hobby with other people. Yes, I'm biased, but it's hard not too be. ;D
In other news, despite Unadilla Bill's predictions, winter has returned. Not "Aaggghh Winter!" but "oh, right that's what it's like to be cold, Winter." I think that this will be around for a while, but the good news is that February is a SHORT month and the days are getting noticeably longer!
Hope everybody has a great weekend!