Springy Thoughts
Haven't been around much as I have had the same nasty cold that so many people have. Am just getting over it. We also had a 3 day weekend thanks to Martin Luther King day.
I seem to be somewhat confused as to the time of year... I have my Valentines Day stuff out already (plus a nice Ground Hog stitch I did last year). And I just finished Peter's Cotton Knits. But it's the PCK that's got me in a tizzy. It's so SPRINGY! LOL
I keep looking at it and thinking "well Easter is just around the corner" but IT'S NOT. This is still January, HELLO January. LOL, LOL
I think it's just wishful thinking on my part. It's nice to get things done way ahead of the holidays, but sometimes it throws me off. It also doesn't help that this is one of the warmest January's to date. I have this sneaking suspicion that February is just going to freeze our butts to the ground. ;p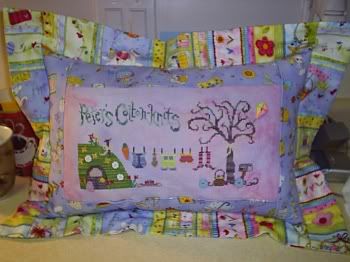 Here is what I worked on this weekend. The colors are a bit off, but you can get the idea. I just love these two fabrics.
I put the cutest kite button up in the tree. I just loved this button when I saw it and knew it would go great with this project.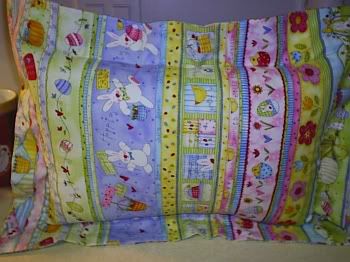 I also started a new project for my mom. It's based on an antique project that says "What is Home without a Mother" I am trying to make it look like the antique one, hopefully it will look nice when finished. It is a huge project that will fit into a 12"x24" frame when complete.
Here's hoping that the rest of the week goes off without a hitch. ;)