Hello World!
It feels like an eternity since I've been in front of a computer. What a bizarre feeling it has been, like being cut off from the entire world. Of course it was a planned exodus, as I spend 80% of my life sitting in front of a computer doing various and sundry tasks. When I go home at night after a long day I want nothing to do w/ a computer and when I go off for vacation it's the same thing. Of course it doesn't help that at home I don't have the high speed connection that I do at work. (I am not a patient person.) ;p
So I'm back. :D Happy New Year to all of you! I can honestly say I have missed you and all your blogs. As some of you may have noticed I spent a bit this morning stopping around and saying hello again. You all have been busy whilst I was away. ;)
And I was busy, in my own way, while I was gone. I have a few project finishes to show off. :D
Let's start with Valentines Day! I am so ready! ;) No dwadling for me this year! I got my projects ready well ahead of schedule.
Valentine Row: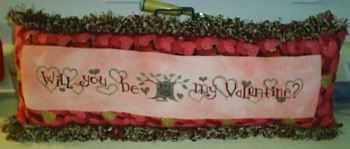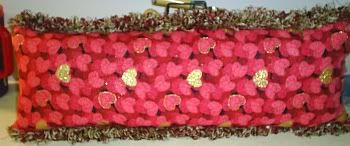 Valentine Medley: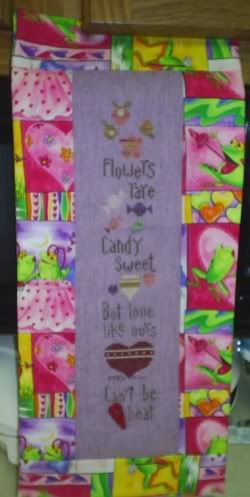 I love how both of these turned out! The fabrics are just perfect for them...but I love Valentine Medley's the best, it's just so hilarious. You can go over to the gallery if you want to see the back side of this project. :)
I finished up Happy New Year as well, just in time:
While I was off I worked on Bent Creek's Seasons and managed to finish it just last night:

I also have to show off Greg's Over Indulgent Santa (or maybe he just has a cold, whose to say? ;D )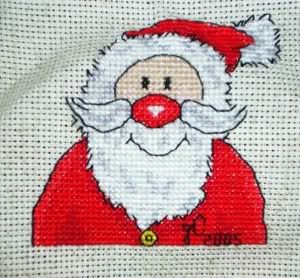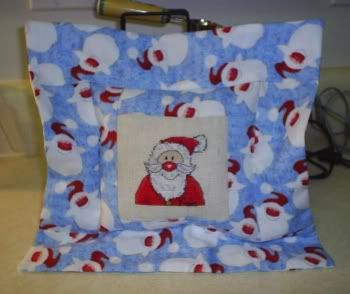 I love this fabric! I couldn't believe it when we found it at the craft store, it was fate! And I couldn't wait to finish this up into a pillow, which turned out pretty great. After a bit of practice I'm getting good at this type of pillow. ;)
Lastly I am showing off something my mom spent a lot of time stitching. She picked out the frame and mat board and Greg cut out the mat and framed it up for her. (Isn't he nice?) :)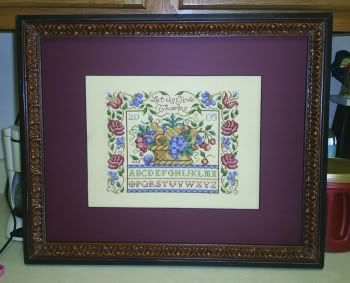 The project is 11x14 and the frame is 16x20 inches, which is very large when you see it in person and makes quite a statement.
The holidays went fairly fast, don't they always and we did a few things. Saw King Kong and Chronicles of Narnia. I don't recommend seeing Kong if you are feeling down, as it is definately down beat, but amazing.
Yesterday was my birthday, woo hoo? LOL I'm not a big birthday person, it's always been too close to the holidays to be celebrated properly. But Greg loves to do the gifty thing so he got me this:
Dan Dipaolo Jack & a Cornstalk
I just love these! I have several of these types of figurines and LOVE them all. So that made my day! And I have to give him kudos cuz he bought it back in October and managed to keep it hidden all this time. LOL, LOL
I saw the latest SBQ roaming around:
How do you balance your stitching time with your other obligations such as work, household chores, etc.?
I don't? LOL No I'm kidding...sort of... First off I don't have kids and though I work 8-5 that leaves several hours each evening to stitch. Stitching is basically the only hobby I have, unless you count going to the gym. ;) So once I get settled for the evening I can usually squeeze a couple hours or so to stitch. If I want to do it I just make time, it's that simple. But I have this sort of unspoken rule, that I only stitch in the evenings for 2-3 hours at a stretch. Even on the weekends and yes even on vacation. I just can't stand the thought of sitting all day stitching and stitching. I sit too much in my job so I need to be moving a bit when off work on the weekends.
I hope all of you had a happy and fun Christmas and New Years! I have a feeling this year is going to be "interesting". ;)
Happy Stitching!