Sparkly Stuff
Look at what
Isabelle
sent me!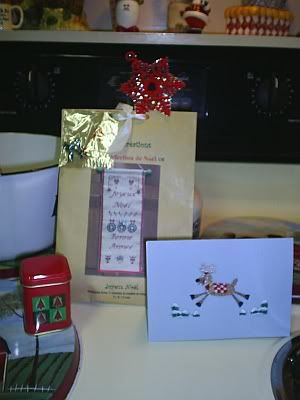 She is just the sweetest! The package came with a beautiful stitched card (on right) and stitched red twinkly snowflake ornament and a wonderful French Christmas cross stitch project that I can do up for next year. She also included a little canister of tea, which I promptly opened and spilt all over the kitchen. LOL Not all of it, but still...did I feel silly. ;D Thanks again, Isabelle! :D
I decided to start on my next Valentines project. I found the cutest fabric this weekend and will make this into a wall hanging when finished. It's Heart in Hand's Valentine Medley. So easy and so adorable! I had this purple fabric and it seemed a perfect fit.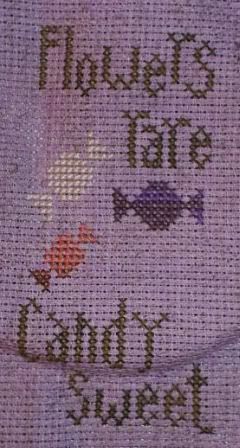 I almost used a lilac Jobelan that
Lili
sent me. But decided that since I haven't stitched on evenweave before this might not be the one to start on...too many spaces between candies. ;)
Greg has been inspired by a package we received from Lili this weekend. She sent some more fabric for Greg and a wonderful pattern w/ small holiday projects. One of them she said looked like a "drunken" santa because of his big red nose. We had a good laugh over that one! And Greg was so inspired by that comment that he HAD to stitch that Santa...NOW. LOL So that's what he's working on. He says he'll post pics on his blog when he gets a bit more done on it.
But the funniest part of the story, is that when I was buying fabric for my Valentine projects, guess what I found? Fabric that had that SAME SANTA on it! No, I'm not kidding. It's nearly identical! So of course I had to buy it so I could stitch his project into a pillow. It's just a small world. :D
Only a few days till Christmas, hope everyone is having a good time and not stressing out too much!