What is it I Hear in the Distance?
Perhaps my CAR horn blaring it's self senseless at 4pm yesterday... "Oh no," you say.... OH YES it's true. I got the horn button fixed on Saturday, it then proceeded to snow 3 inches so the car sat parked all day and all day Sunday. Someone knocks on the door at 4 and asks "do you own a ... car"
"Yes," we say
"I think your car alarm is going off," they say.
We look at each other, "I don't HAVE a car alarm," I say now a bit fearful
We go out and lo and behold, it is MY car wailing itself sick. I rush across the snow to get the door open, touch the horn button and it stops. The neighbors cheer. (Hey they might have, it was pretty loud.) I am disturbed. I start the car, it does so sluggishly. I turn it off and it doesn't want to start easily. GREAT. Road trip. So off we go for a late afternoon drive around town getting the battery charged up, with me alternately honking each horn button (too loosen them up of course) and Greg trying to cower down in his seat every time I do (that horn is *very* loud). LOL I have no idea why it decided to kick loose when it did, but am glad the neighbor figured out it was our car and this morning car started no problems and no blaring horn. W E I R D. Nuff said. ;p
Did I mention it *snowed* on Saturday? We were headed to Greg's dad's house and basically ran into a BLIZZARD...exaggeration...but it wasn't fun. So we decided it was a good time to stay home and decorate for Xmas. LOL Actually *I* decided it was time to decorate Greg just glared at me and toted tubs of lovely "stuff" all day. What a guy! :D
While decorating I realized that I may want to consider pairing down the 'ol Halloween decorations. Either I suck at packing them, or they cloned themselves since I put them out. I don't remember them taking up that much room when I got them out. The Xmas decorations are no where near as overwhelming as the Halloween stuff... And I seem to have a penchant for snowmen, although if I remember right it's not me that has the snowmen tastes it's Greg. He has a fair amount of animosity for the big red guy. ;p
So not only did I get the decorating done, but I got a couple of pillows made up. It should've been more, but my sewing machine only speaks some odd Chinese dialect that I have yet to decipher so it took a while to figure out what the hell was wrong with it... Let's not go there.
I got the kitty pillow finished, not exactly like I wanted, but it's cute nonetheless! :)
Front: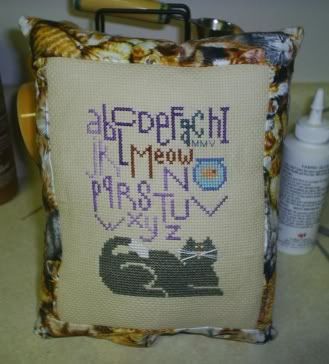 Back: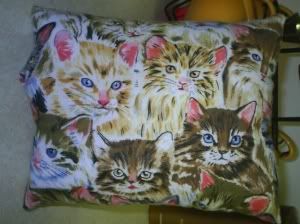 Your eyes are not going bonkers if it looks like the pillow is suspended in the air, I turned the photo sideways so you could see that it can actually be used front or back for a decoration. It's just the way the fabric was cut soooo...
The next pillow I made was my Santa Claus from Birds of a Feather and I have to say I am mighty proud of this pillow. It is better than I had ever dreamed! I got this fabric at my mom's house, it's something I had bought years ago and had stashed there. It's a tapestry fabric of ornaments. I put a border of blue around the project w/ leftover fabric from the Be Ever Kind flanged pillow. This pillow took a while to make, but it LOOKS fantastic. :)
Front: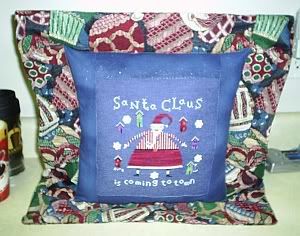 Back: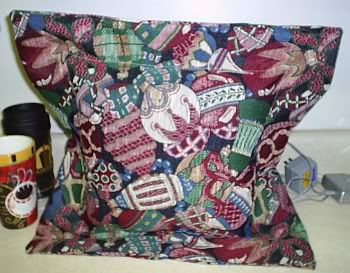 In it's place of honor: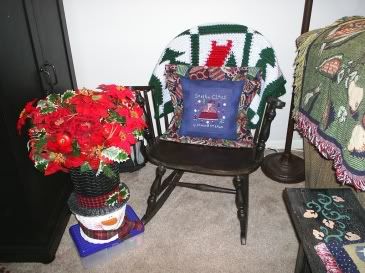 I got this rocking chair from my mom and my dad crocheted the afghan on the back of it. The pillow fits in perfectly!
I also got a bit of stitching done on Valentine Row: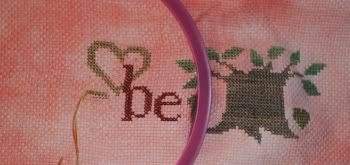 Someone asked if I hand dyed this fabric, yes I did. It's a beautiful color on 16ct aida. I did this a few weeks ago when I did up a batch of all different counts of aida. I tried this on hand dyed 22 count, but it just looked too squished for my tastes.
And I saved the best for last! I got a pic of Greg's project all finished. It's not framed yet cuz we didn't get to his dad's to cut the board for it. But it will be done soon. :)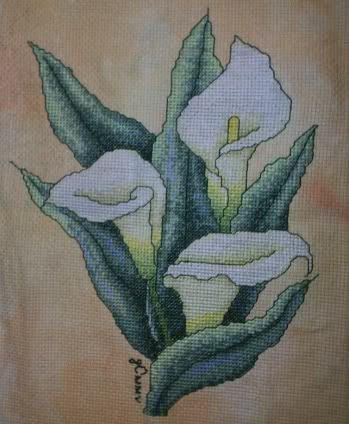 Isn't it just BEAUTIFUL! He did such a fantastic job with it! The backstitching really brings it all out. It looks like black thread, but it's actually a shade of green which I thought was very unique. :)
Well that's my weekend...I'll be around to read about yours! And HAPPY SINTERKLAAS! To those of you who celebrate this fun holiday!