Wednesday
This week seems so long! That's what I get for having last Thursday and Friday off. ;)

I bought the Harry Potter dvds and have been watching and stitching (a bit)...I got my Happy New Year done and started on another Bent Creek pattern for Valentines Day.




It turned out great, except I meant for the balloon to be a darker color, but didn't realize till I was done stitching it. LOL I think I will finish it into something this weekend if I have time.

I decided I have enough Xmas things so I'm onto stitching for Valentines Day... Yes I know it's a long way off, but why wait? I find it's a fun holiday to celebrate. ;p I don't have an update pic worth seeing yet, just started last night. :)

Greg however has been working his fingers to the bone stitching on those Calla Lillies! He says he finished the backstitching today! This pic is from last night.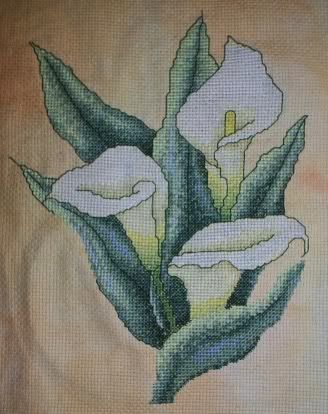 Doesn't it look fantastic! Wait till you see the frame we have for it! This is my absolute favorite thing he's done. :D And it's all for MEEEEEEEE! LOL, LOL

Okay I'm off to find something to keep me awake until it's time to leave! Happy Stitching!