Making Progress

I completed a couple of goals this weekend, 1. Feel Better - I can say I don't feel as bad as Friday that's a plus. :) 2. Finish 2 Xmas gifts - DONE! I finally got some sewing done this weekend and finished off 2 projects that are going out as Xmas gifts. I just hope they are well received. ;)

First I got the trim and accessories on the Cat Sampler flat fold. I think it turned out really great!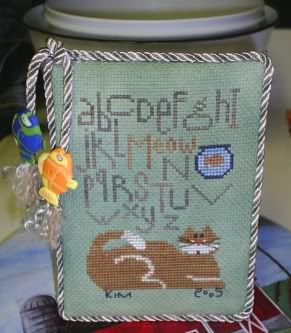 Here is the back: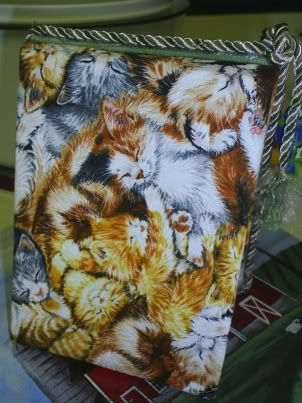 I glued the fish buttons to the trim and I think it gave it a nice finished look. :)

I also made my Be Ever Kind project into a pillow...I'm not so sure about the trim, I keep thinking it looks like Gemelli noodles are sprouting out of it... LOL, LOL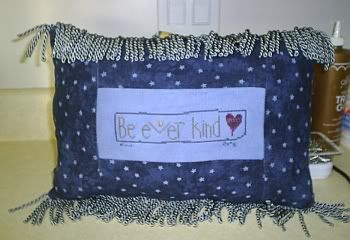 But it's finished and that's the main thing, I will let you know how well they are received. :)

I finished my Winter Row:





Close up: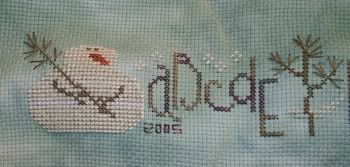 It looks great, although I think the fabric may be a bit light colored for it. Barbara asked what the fabric is...it's 14 count aida that I hand dyed in my kitchen. LOL Most of the colored fabric that you will see here has been hand dyed by me at home w/ my little chemists set... ;D Okay, okay, I confess I don't have a chemists set, but I really do dye my own fabric. :D (Also Barbara, I would be interested to know more about your lilac fabric that you mentioned is up for trade, you can find my email in my profile if you would like to discuss it further. :D )

Greg finished his ladybug up, he did go w/ the red and despite my being wicked on Friday I honestly do think it looks great. The red head looks very cute. :) Here is a pic of it laying on top of the fabric that I'm going to use to make it into a pillow. Greg picked out the fabric and I think he did a fantastic job!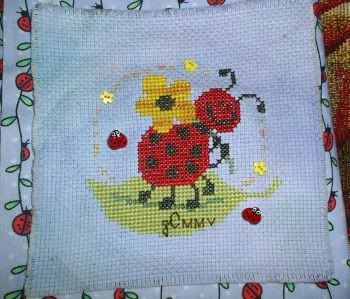 All in all a very productive weekend! :)