Happy Veterans Day!
Today we say thanks to our men and women (past and present) who serve or have served in the armed forces. Thanks to these dedicated people we stay safe and secure from the big baddies of the world. Yes, the USA has had some terror incidents, but compared to other parts of the world we have not had to endure an ongoing onslaught of violence. And for that I am ever grateful to our military. Having been in the military I know how hard these people work and how dedicated they truly are, so today and every day THANKS for keeping us safe.

I am in the midst of a nasty cold, I guess it's just that time of year. Fortunately a cold can not be spread via the internet, so here I am saying HELLO! Thanks again to all of you who have stopped by to take a look at my Thanksgiving pics. I love decorating for the holidays and tend to go a bit overboard. It's a good thing I don't have a house or it might look like something straight out of Disneyland. LOL The bad thing about being sick is I have been stuck home feeling miserable and not able to get my job done. The good thing is that I've been stuck home w/ nothing to do but stitch. :D So I finished my Happy Xmas on Wednesday and started on Winter Row. Here is Happy Xmas: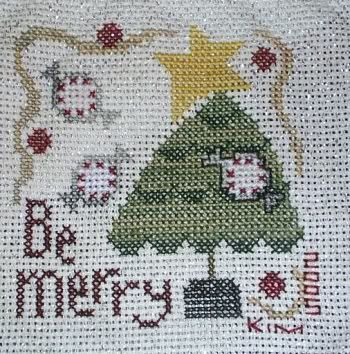 I am going to try stitching this into a cube pillow decoration. I am hoping I can make it look like a xmas present. The finished design is about 5x5 inches so it is doable... ;)

Here is my progress on Winter Row from Bent Creek:





I love these row projects from Bent Creek, they are so quick and fun to stitch. I love that the snowmen in this one are juggling snowballs. I have a larger version of this update pic in my gallery Winter Row
click on the small pic for a larger version.

Greg left off the lilies to stitch some small projects for gifts. He's working on Bent Creek's Ladybug Jig right now. Here's an update: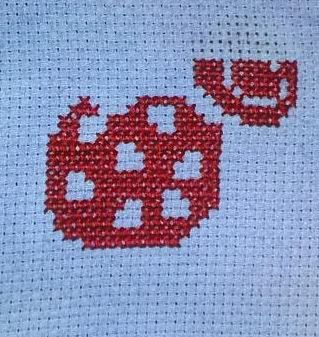 I mentioned that ladybugs technically don't have red heads and that sent him into a tizzy. He wasn't sure he wanted to stitch it black, like a real ladybug would be. So he tried another color of red but didn't like that either. Poor guy, I told him that no one would really care if it wasn't technically correct, so I think he's back to basic red. Yes, I am *evil*. It's the cold talking, I swear. LOL, LOL

Happy weekend to all of you!