Why Yes We Do...

work! LOL For those of you who might be wondering, "yes" Greg and I do have full time jobs. AND Greg commutes 2 hours a day. So now you can be "mightily" impressed at how much stitching gets done at our house. LOL I think that because there are 2 of us creating projects it just seems that we get a lot more done. Plus I generally devote Sunday afternoons to finishing projects, if there are any to be finished. It seems that this time of year we just get a lot more done. I know I get loads more projects done, I think I am more inspired by the holidays. Does anyone else feel that way?

Well we had an "exciting" weekend. I went to spend the day w/ my mom, it was her birthday Saturday. And Greg stayed home to run errands, etc. Unfortunately for him, he was driving my car and it decided to die on him at his last stop. AND I wasn't home yet. I get home and have 5 frantic voice mails telling me what happened...because of course I decided to come home later than normal and now Greg is worried something might've happened to me as well. I rushed to pick him up from the mechanics shop and he was relieved that I was okay, but now we were upset that we had the unexpected expense of fixing the car... And of course we had just recently gotten a new computer. LOL Isn't that the way it always goes?? My car is being fixed today and it's not hugely expensive, but still a pain nonetheless... Ah well life goes on!

I did spend yesterday making pillows! I got several done and they all are so cute! Greg did finish his cat sampler but I don't have a picture today...tomorrow. ;)

First off I never liked the trim I put on my Be Ever Kind pillow, so I finally decided to just redo it. I made it into a flanged pillow and I love the results: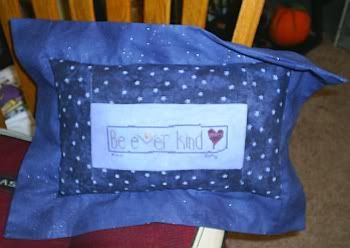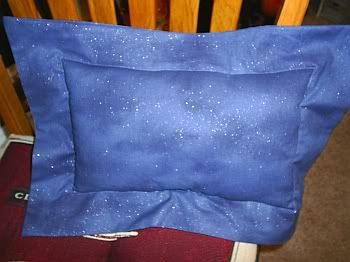 I think it looks immensely better like this, the fabric matches so nicely!

Then I made crown pillows for my nieces, they aren't totally finished. I'm going to get some fuzzy trim for them, but here's the prelims: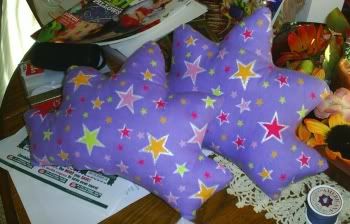 I got this pattern from a pillow book I bought at JoAnn's, I thought it was the cutest pillow and perfect for little girls. I'm sure they will love it. :D

Then I made Greg's ladybug project into a pillow, it's a Xmas gift so I needed to get it done. He picked out the fabric for this and I think it's PERFECT!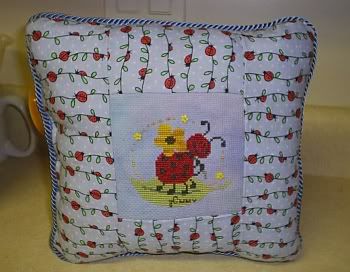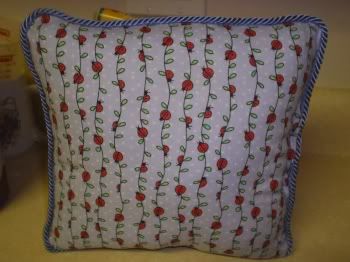 Finally I had a package from AngelSan! She's such a wonderful friend! Look at the goodies she sent!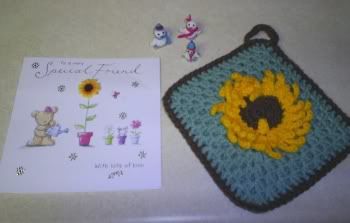 Close Up of Snowmen: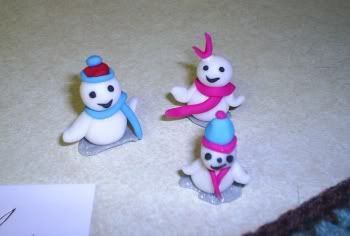 I love all this! An adorable potholder w/ a sunflower (my favorite) and these cute snowmen and a beautiful card! Made my weekend for sure!! Thanks to San, she's the best!

Hope y'all had fun weekends...going to go catch up on a few blogs now... :D