Ever Seen Santa in His PJs?
NO? Well you are in for a treat! Here he is, Mr. Claus, PJs and T. Bear ready for a nap after delivering all those goodies. ;p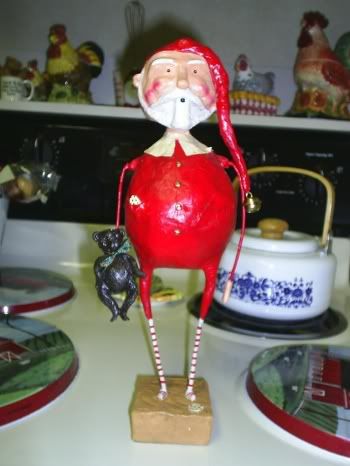 LOL Isn't this the *cutest* thing? (Hmmmph...I know what you are thinking, Greg.) BUT - I think it is. :D I got this last night while out picking up the bosses Xmas gift. It's by
Lori C. Mitchell
. She creates the cutest folk art figures I've ever seen. They had tons of the Xmas ones at my favorite shop. I had seen this one before and wanted to get it cuz it's just so darn unique! Those toothpick legs just make me laugh. I love off the wall Xmas decorations, what can I say? ;P So now he's plopped on the table amonst all Xmas cards, looking like he needs a nap. :D
I've been bad about answering the SBQ's, seems just when I get ready to answer it's time for the next week's question. But this week, I'm not only on top of it, it's a question that I really would like to answer. :D
SBQTake a minute to reflect on your blog reading habits and preferences. What do you prefer to read in stitching blogs? (Progress, tips, family life, experiences, etc.) How much do you think you are influenced by other stitching bloggers?
Thanks to
AngelSan
for suggesting this question! This is a great question and I've had a lot of fun reading all the various answers that have been given out there.
First off, what do I prefer to read in stitching blogs?
ANYTHING.
That's right, anything that the stitcher wants to talk about I'll read it. It's their blog. If they want to talk about their kids, cats, dogs, spouses, flying saucers spotted...I don't care. It's all part of their personality and it's a blog not a stitching magazine. I want the human touch. I don't want page after page of JUST stats and linen counts. When we share a bit of ourselves we open the door just a crack to let others in and share our world. And I think most of us at heart are down right curious about our fellow stitchers. We don't want to know *everything*, but who minds sharing happy news or consoling a friend in a time of need? I also love seeing the stitching and the updates, even the most minute updates are fun. I love the tips, hints, triumphs, failures. I love it all. Blogging has opened up a whole new world for me and given me the privilege and pleasure of reading and chatting w/ some of the nicest people you'd ever hope to meet. (As an aside I have to thank San for that, she convinced me to blog...Thanks San!) When I first started blogging I thought it was silly, what did I have to say and who the heck would want to read it? Surprise on both counts and thanks to those of you who do read and those who comment. I wouldn't stop stitching or blogging if no one commented, but it's a whole lot more fun when people do. :D
How much do you think you are influenced by other stitching bloggers?
I'd say a lot. I'll often decide whether I want to stitch something or not based on what a stitcher has to say. I look at certain designers when someone recommends them. And I've found great information on finishing techniques and other how to's that have made my life easier. Through blogging I've discovered some of the best online shopping spots, what types of fabrics are great, found opinions on every aspect of stitching. It's a wonderful resource and a handy place to get help on problems I've encountered. I've been online for many years and I have to say that the stitching community has the nicest group of people I've ever encountered. Thanks to all of you who take the time to share, it means the world to me!
Happy stitching!
Oh and FYI - Greg has a new post up. What? Of course I'm going to shamelessly plug him! ;p