Not Forgotten
In my rush to get pictures taken of my pillows and the mini crisis of the horn I forgot to show the little cube I made on Sunday. It was something I stitched last year but didn't have time to finish, it sat w/ my Xmas stuff until I unpacked it Saturday. So here it is: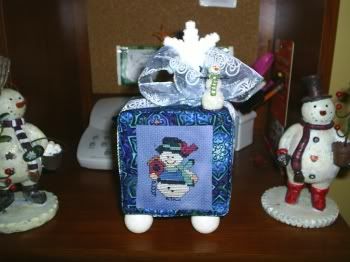 It turned out so cute. In case you can't tell, I put a snowflake ornament in the back and a snowman in the front of the bow. :) I finished it and put it in it's place of honor, which is why I forgot to snap a pic.
I figured since I was showing this, I might as well do an update of Valentine Row. It's going pretty well if I didn't keep getting distracted.

It snowed again last night, about 2 inches added to what we already have. The snow isn't so bad, but the cold is. It's -4F with a windchill of -20F, that is COLD for December. Hope it's nicer where you are. :)