Jingle Bells, Batman Smells...
(hee, hee) What? I *know* some of you out there sang that as a kid, don't *even* try to fool me. ;P
Today I'm posting pics of my Xmas decorations. I made them small but it may take a while to load, so if you don't want to wait, I won't be offended. :)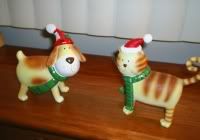 I found these this year and they remind me very much of
Give and Take
by Mosey 'n Me. This is a project I did in 2004 and love it very much.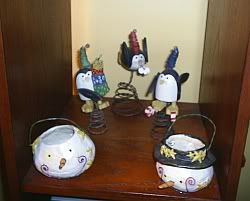 I also got these crazy penguins this year, for some reason I think of Madagascar when I see them.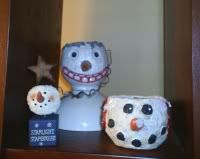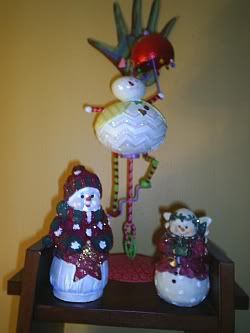 The snoman on the unicycle is also new this year. How could I resist that red umbrella? ;p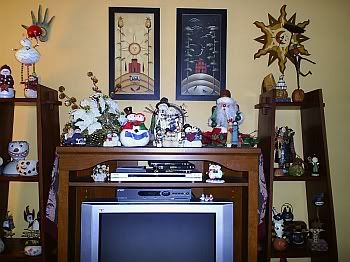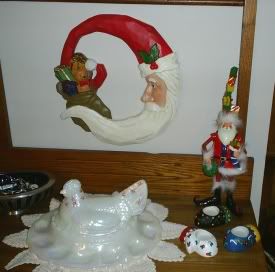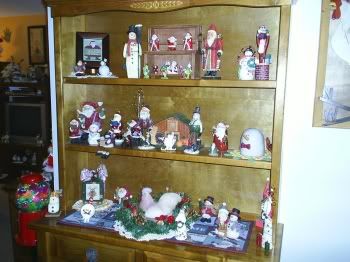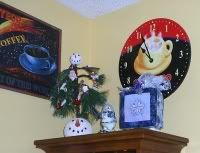 This is my version of a Xmas tree, it's really all I have room for.
It's really not as overwhelming as at Halloween, I keep thinking I need pine garland all over everything. LOL
What I really miss though is the Xmas tree. Like many of you I have fond memories of dark rooms w/ trees lit by sparkling lights. But space being what it is it's just not practical. My other favorite memory of Xmas time as a kid, is getting a big box of oranges and those big bags of mixed nuts and spending toasty afternoons indoors w/ the smell of oranges in the air and fighting my brothers for the nutcracker. LOL
Hope everyone is staying warm! It's still around -2 here and more snow on the way.