Friday Happy Dance!
First off, if you hadn't noticed, I changed my template! I thought this winter one was appropriate considering the weather lately. I got the template from
Free Blogger Templates
and then modified it to work the way I wanted it too. I'm not overly crazy about the colors, but will leave it up for a while and then I've got another kewl one that I have ready to go. I was glad to finally have time to fiddle around w/ revamping a template instead of just using the ones from Blogger. :D
My second happy dance is that I finished Valentine Row! Woo Hoo! I got it done last night, about time too. ;) Here are a couple of pics: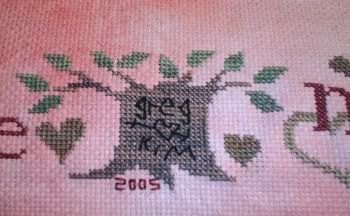 I changed the tree, it was supposed to say Me Heart You, but I was trying to come up w/ a clever way to sign it and so I changed it to Greg Heart Kim. LOL I think it turned out very nice, if I do say so myself. :D Now I think I will turn it into a cute pillow that I can use to bop Greg over the head w/ when he forgets to bring me flowers on Valentines Day. LOL Oh okay, you're right he won't forget...not after this. ;p
I just wanted to say THANKS to everybody that left comments on my last post! Thanks so much y'all make MY day. :D Happy Weekend!