It Was Right Where I Left It...
the cord for the camera, that is. ;) My sweet, considerate hubby had wound it up all nice and neat and put a twist tie on it. NO WONDER I COULDN'T FIND IT! LOL Here I am looking for a loose tangle of a thing and it's transformed into a bit of cord symmetry with perferct proportions and a tiny little twistie, making it look as if it just came out of the packaging. (sigh) In case Greg is reading this, I tossed the twistie, I just can't be bothered with all that perfection and symmetry. It plays too much into my somewhat obsessive compulsive nature...and I don't want to constantly be looking for the twistie. (Yes, I'm lazy that way.) hee, hee
Here is my latest pic of "What is Home", it's not the one from yesterday. I did some more work on it last night, so it's "current".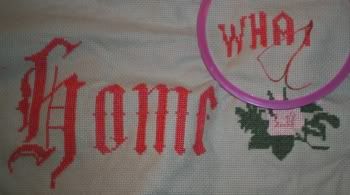 I really like these colors. At first I thought I didn't, but the more of it I get done the more I like it. It doesn't really have an antique feel, but just feels crisp. It's going fast considering how big the thing is and that I am currently distracted by a book.
Greg
is still working away on his project. Maybe he will have time to make a post tonite. If you haven't read his last post, it was a lot of fun.
And now I am just curious. I am currently reading the "Time Travelers Wife" by Audrey Neffenegger. I am at the more than half way point and am curious if anyone else has read it and what their opinions are (preferably positive/but all are welcome).
Happy Stitching!