Give me an "M"!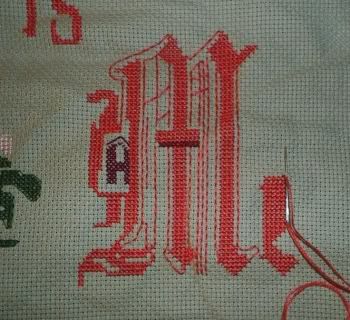 Hope all your weekends were fun and/or productive! Mine was a bit of both, although I was struck by a major case of the lazies yesterday.
It took me 3 days to stitch the "M" on my project. This is a giant M and had loads of backstitching around it, in fact it's the only letter on the project that has a lot of backstitching. The E on home has a tiny bit, but the M far and away out does this. I like the backstitching aaaanndd I don't. LOL
It does bulk up the M and give's it the look of calligraphy, but I'm not sure I like the "dotted line" look of it. I tried making the stitches longer, but that looked horrible. ;) I'm sure seen at a distance you won't be able to tell and I'm being to hypercritical. I think I just looked at it for too long. LOL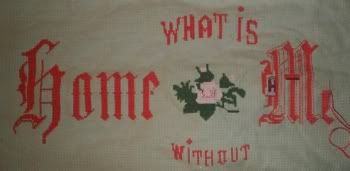 Overall it's looking great! I got the frame for it at Hobby Lobby, they had 40% off coupons last week, so I got a good deal on a 12"x24" frame. It may need a bit of a mat on it, but we will see when it's complete.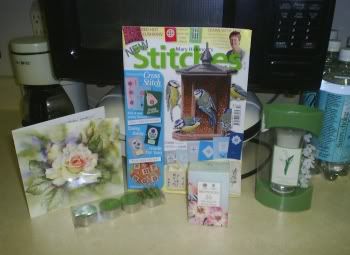 Siouxsie
from Isolated Needle sent me this great package for my birthday! I got it on Friday and was so surprised at how generous and kind she was! She sent wonderful candles, a decadent smelling soap and this cross stitch magazine I had never seen before. The magazine has lots of great tips and some cute charts in it. What a wonderful treat! Thanks so much Siouxsie!!