Curiouser and...
Well not "Curiouser"... LOL You shall see what I mean by that a bit later. ;)
First an update on the "flood". :D The maintenance men came by and were quite nice about the whole thing. They realized that some damage had been done to the ceiling so they came back Friday and scraped off the acoustic material (affectionately known to us as "popcorn ceiling") and repaired the ceiling and then re-sprayed popcorn on it. You'd never know that it was damaged. Hurrah! I just hope that whatever they were up to on the second floor never repeats. Cuz it was icky. :) And yes Jesse was our hero until she had her next "hairball incident". But we won't discuss that. ;)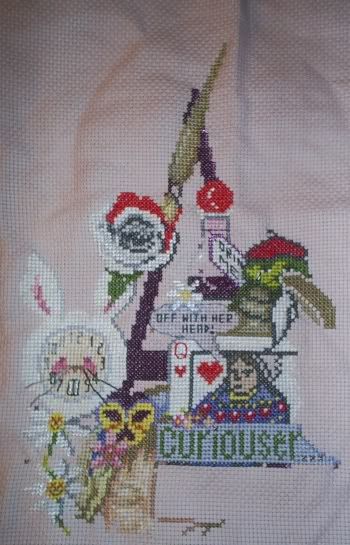 I worked on Alice this weekend, I finally made it through most of the small bits (for now) and got to the section "Curiouser and Curiouser", except I only got the first "Curiouser" done. (giggle) At this point I figure I am about half way through the project. It's going fast, but it's hard to say how long it will be till the finish line. You just never know when some difficult bit will pop up. :) If you notice in the bottom left you can now see Alice's eye. I love the effect of this so subtle...everything just flows together. :D The best part is that I really enjoy working on it and it just never gets old.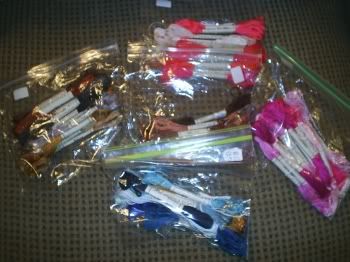 I did some shopping this weekend and I went through the sale bins at my LNS. Found some fun patterns and got these bags of Eterna stranded silks. They were half off their normal price of .66 cents (US), so I got them for .33 cents a skein. It ended up being a total 60 skeins (5 bags of 12) and for that price I thought it was a huge bargain. I haven't stitched with silks yet, but I hear they are so nice to use. I thought that I could substitute these in some future projects for a fun look. It's nice to be able to try something different for not a lot of money. :D
In other news... I added a counter to my blog, mostly out of curiousity. It is fun to see just how many people are actually looking at my blog. It's amazing how many people come by but never comment. I find that comments are very encouraging and make posting so much more fun, so if you have a blog that you read but rarely comment on, I challenge you to stop and leave a little note. It will mean so much to the blog owner. :D
Happy stitching!