Can you say...
IRONY?
This is the *first* day of Spring: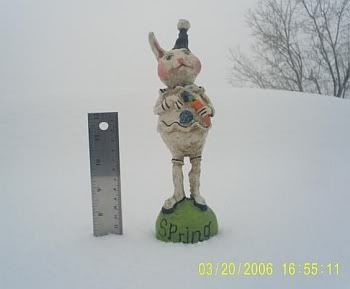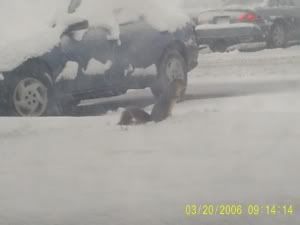 The first picture is of my car "after" the storm, based on the ruler there is 7.5 inches of snow on it. The second picture is from our front window during the storm, poor squirrel trying to look for breakfast.
We got a total of
13 inches
of snow on Monday. This storm was so bad that they closed the place I work at for
2
days. I've worked here for 7 years and I have NEVER had 2 snow days in a row. Greg stayed home the first day. We live in Lincoln, he works in Omaha which is about 60 miles away. I just didn't think it'd be safe for him to drive to work on Monday. But apparently Omaha didn't get nearly as much snow as we did cuz his job never did close down. I-80 from the Wyoming border to Lincoln was *totally* shut down. I can't even imagine this, the WHOLE interstate shut down, that's like 400 miles of road. I guess we got all our winter in one fell swoop. LOL At least it's already melting and it's supposed to be up around 47F by Sunday, so the snow shouldn't last long. So how was *your* weekend? ;D
I also FINISHED Alice! Hooray!!! I finished on Sunday and am glad to be done. The last bit of Japan gold was a royal pain. But it looks so fantastic! I can't wait to get the frame done and see it all come together. :D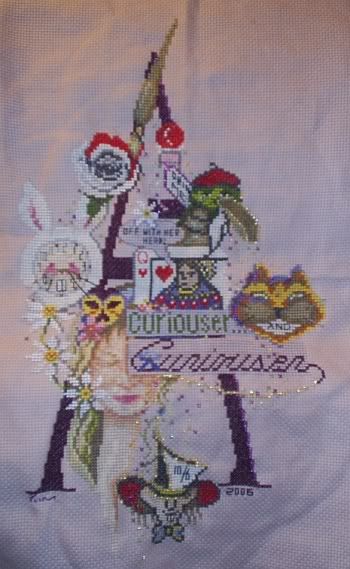 I also started on the High Wheel bike for Greg. You can see the booklet on the left. Here is my progress so far.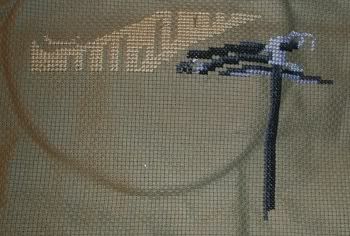 I have to say I'm quite proud of this, as I didn't have a copy to work from and I worked straight from the book w/out marking it. This is quite a deal for me as I have a hard time keeping track w/out marking rows off as I go. This pattern contains a lot of blended threads which are can be tricky as the colors are so similar. Greg is so happy though, cuz he really loves this pattern. :D
Hope everyone's week is going great! Happy stitching!