Remember Those Ruby Slippers
The ones that I mentioned that I "might" need before long...well yesterday was the day! Holy Cow! The weather yesterday was INCREDIBLE! A huge storm blew through and I was on my way to a class when I got slammed by torrential rain walking out to my car. I was drenched in a matter of seconds! So I finish the afternoon class and head to the gym where I can watch tv while I work out (makes it easy to keep up with my soap operas ;D ). The news channels start going crazy saying there's a tornado warning up in Omaha, you remember, the place where *Greg* works. The worst part is that it's nearly time for him to *leave* work. I'm watching this worried about what he might be caught in and apparently I had good reason to be. (You can read about that on his
blog
.) This is what hit parts of Omaha yesterday afternoon: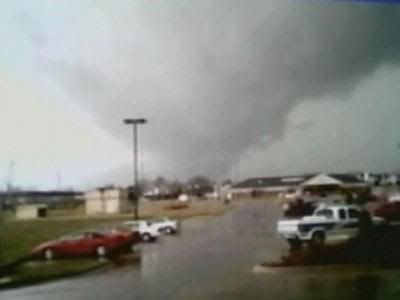 Yes people, THAT is a tornado! Some guy was driving along and saw it, jumped out and snapped a pic with his handy dandy cell phone. Now me, I would've gotten the hell out of there as I have no desire to meet little people with a fetish for lollipops and yellow bricks. ;D
Needless to say it's been a crazy couple of weeks, last week it's a freezing blizzard and this week it's tropical with tornados. This is the only place I've ever lived where you could wear a parka and shorts within days of each other. ;)
I have been a busy woman this week, had a lot of classes for work so I haven't been around my computer much. Honestly I only missed it a little. ;) And I haven't been stitching madly either, I think I'm in a bit of a slump. But I do have this update pic: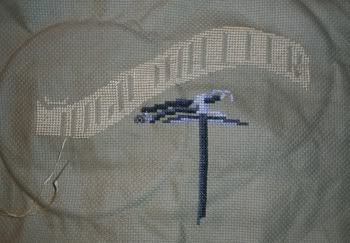 I decided to change the letters in the banner from black to a nice red. Greg picked out a Weeks color, can't remember the name right now... And I'm also going to put in some Kreinik black #4 braid on another part of the project, just to jazz it up a bit. Hopefully I will get inspired, if I'm not hiding in the bathroom from another tornado!
Hope everyone had a great week and enjoys their weekend! Happy stitching!