High Wheelin'
Well I finally made filled in the banner and made it around the wheel. Yea me! LOL This project has definately been slow going, just not so interested in it I guess. But not that the wheel is done there's not tons left, it's mostly back stitching.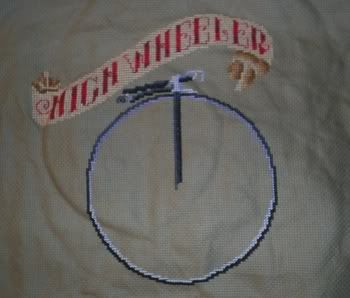 I really love that red in the banner, it just pops out so much more than the black.
Not much going on around here, the weather is wild. It's going to be in the 80'sF this week, which is 20F more than normal for this time of year. I hope it doesn't me we are in for a hot summer.
Greg
finally finished his red bike project, take a look if you haven't, it turned out fabu! He wanted to celebrate with this Red Bicyclette wine that he got, mainly cuz of the label (giggle), but unfortunately I'm not a big wine drinker and this one didn't agree w/ my taste buds at all. So poor guy had to celebrate alone. I don't think he minded, as the whole bottle is now gone. ;)
This weather makes me want to take off for a holiday! But money wise it's not really a good idea for us. So what about all of you what are your vacation plans this year? :D
Hope everyone is having a great week! Happy stitching!