Turkish Red
That's the color of the red I'm using in Greg's bicycle picture. It's very pretty, I just wish I could get more done. ;) I am being quite slow lately and not getting much stitching done at all. I guess it's the warm weather. It's all nice and spring like out there and very pleasant.
Here's a current pic: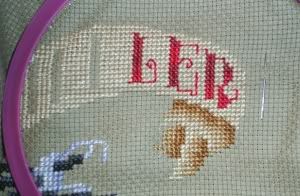 The letters would be a bit faster going, but there is a lot of backstitching along with each one. The nice thing is that I love how it's looking. When you step back it is very pretty. I want to finish the letters and then I think I will finish up the bike itself. In actuality it's not a huge pattern but definately tricky.
Not much else going on here, another storm has blown in along with a tornado watch. In lay terms that means we watch to see if any tornados develop and then run for cover. LOL Hopefully we will just get some rain and that's it, we can use the rain. :D
Hope everyone has a great weekend! Happy stitching!