If You Don't Know Where You Are Going,
Any Road Will Take You There. - Alice in Wonderland
This quote is the last one for the Alice project and it is so true. When I first bought the Alice pattern all I knew was that I *loved* it and wanted to stitch it...some day. Then as I discussed it with Greg I knew that I would like to have a certain type of frame for it, make it really special. So he designed the "A" frame for me and I loved it. But I still wasn't sure how I would finish it or if I would "ever" stitch Alice. I finally get around to stitching Alice and I think I know just what I want for the frame, but after much contemplation I realize that I don't want people to pay more attention to the frame than the picture so I re-think my plan. And after a little bit of fiddling and some searching for the right bits and pieces it's all done and Alice is framed. It's not exactly what I thought I would end up with but I think it is perfect just the same.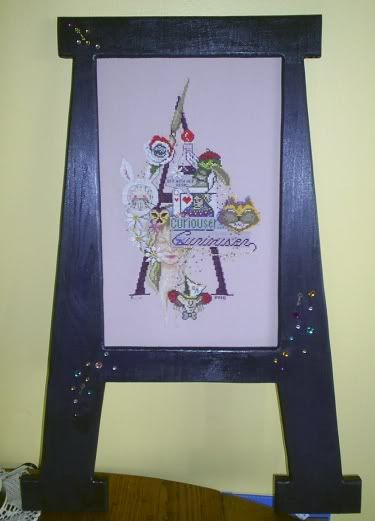 I decided to mimic the swirl of Mock Turtle tears in the stitching on the frame to give it a splash of color. Below is a close up of the embellishments.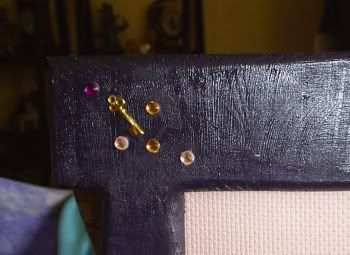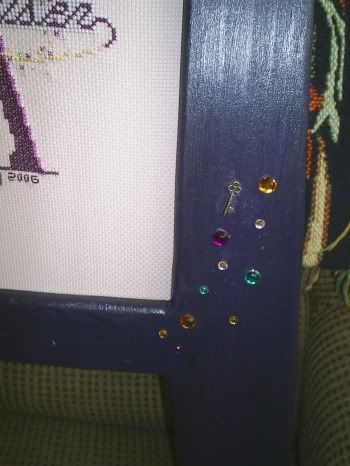 I found these tiny little keys and decided that they would be the perfect thing to add to the frame along with the "Mock Turtle tears" (aka jewels). I tried to mimic the swirl that is in the pattern and I think it came out very well. The frame is actually a dark blue purple.
All in all it turned out fantastic and already has a place of honor on the wall.
In other news I am nearly done with the backstitching of the High Wheeler and will show a new picture of it when I'm finished. We even found a great frame for it as well. So this weekend was quite productive, as well as warm and beautiful!
Hope everyone's week is starting out great!