Lady In Red
Back again! I have been stitching away, it's been great! I had some time between finishing my last project and starting my new one (waiting for fabric) so I did a couple of smalls.
First is a mini project that Greg wanted me to do. It was a lot more complicated than it looked! But it turned out cute. :D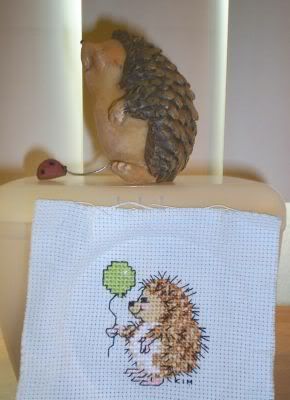 The hedgehog is so adorable and matches the little figure that Greg had sitting with his plants. He was quite happy with it. :D
Next I did JM Designs Rooster: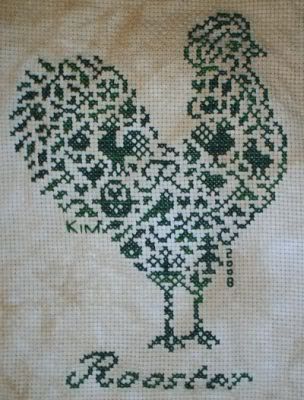 I used Needle Necessities forest green thread for this one and I love how it turned out. I thought it would be a "small" project, but it's actually about 5x7. It was fast but a bit tricky keeping all those stitches in their proper places. Not sure what I will do with it, but it would look cute in just the right frame. :D
Next up is an update of Greg's statue of liberty pattern: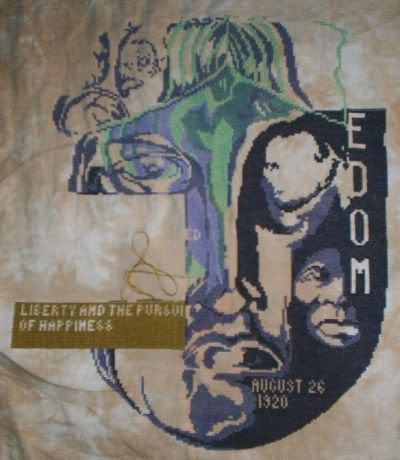 He's been working on this for 3 months! But it looks so great and I keep cheering him on. :D This thing is HUGE, but so beautiful to see in person. :D
The project I'm working on now is called Faith, Hope and Honor by Carriage House Samplings.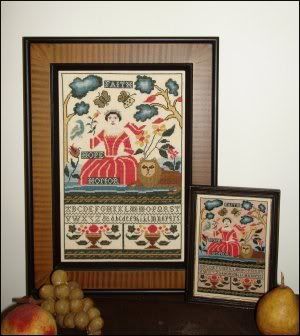 I just fell in love with this pattern when I saw it and had to stitch it. The thing I loved most was her red dress. But when I started pulling DMC threads (I can't afford the expensive silk ones that are used in the sample.) I realized that the "red" was actually more pink than I wanted. And one of the other colors wasn't quite what I had expected either. So I did some switching and got the red dress back to the red I wanted.
That is one of the downsides of the display photos on the patterns, they can be a bit deceiving. I think in this case it was probably because the silk thread colors are a bit different than DMC. But it also might be because the picture is a bit over exposed. In the picture you can hardly see her albaster skin and it was the same in real life when I pulled the Ecru thread and realized it was the same color as the fabric I was stitching on. LOL Well that wasn't going to work for me, I like my ladies to be a bit more flesh toned or even a bit pinkish. ;) So I did so me mixing and matching and finally came out with a combo thread that give her a more fleshy appearance. I don't have a pic as yet, but will try to post one soon. Sorry. Anyway, overall I would recommend this pattern because it's easy and cheerful. Just be aware that it is a lot larger than you might think, especially on 14ct. I'm doing it on 18ct Aida and it's still going to need an 11x14 frame. But like all Carriage House Sampling patterns it will be one that I cherish for a LONG time. :D I just have to find a place to hang it. LOL, LOL
Bye for now!!