Free Wheelin'
I AM DONE! Woo Hoo!
Yes the big wheel is finito! And am I ever glad! It took way longer than I intended for this project, mainly because I hardly worked on it all month. It should've taken maybe a week and a half and it took a MONTH. But it's done and Greg LOVES it, he better it's his birthday present. LOL We already have a frame picked out for it and just need to get it into it. :D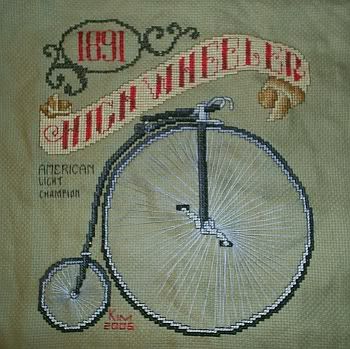 As I suspected those long stitches for the spokes were a bear! The small wheel went fine but the big one was tricky. I'm sure it will look great once framed but when you pick it up right now the spokes sag, it's actually kind of funny. I mean, it's hard to ride a bike w/ saggy spokes. LOL
I am starting on La D Da's Forever Friends next. Such an adorable pattern that I can't wait to start it. :D (You can see a pic of it to the left.) And it shouldn't take long either. Of course I'm going to change the colors just a bit, but that's on par for me. ;) After that I'm going to do either Sam's Socks and Such from Raise the Roof or this Bird Watcher pattern I found on sale at Hobby Lobby for my dad. We will see what hits me.
Thanks for all the great comments on Alice! It was such a great project. I'd highly recommend it to anyone. I have to give big kudos to Greg and his dad for making that frame. Greg designed it and his dad did the cutting and pasting. ;) In this case the frame definately adds life to the project. :)