Blending
In my opinion, the key to not having this block drive you crazy is BLENDING. LOL I can see that the designer was trying to achieve an interesting texture to the house by having us backstitch over all the yellow stitches that create the house. However, if you are like me (no patience) this method would inevitably drive you mad. So in the interest of preserving my sanity I opted to try blending. I blended the colors of the yellow stitching and blue backstitching and then started stitching away. And I think it looks great! The only downside is obviously doing the actual blending, but that's a minor point. It does slow me down a bit but it's worth it. :D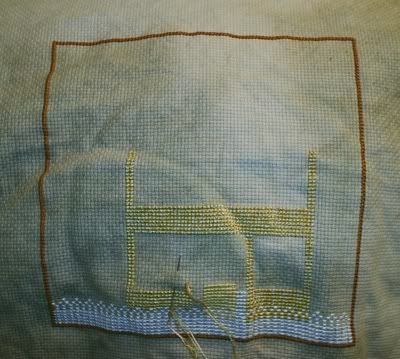 I am almost finished with the main part of the house, just a bit at the top then onto shutters, windows and roof. It actually goes quite quickly, and if I didn't blend I'd be breezing through. :D
I am undecided at this point about filling with black. This block is supposed to be filled in at the end, but I'm not sure that I want to. Aside from the obvious work involved, I'm not sure if it will really add anything to this block. I like the idea of the fabric showing through.
Jenna
asked to see a pic of the entire fabric. Here it is: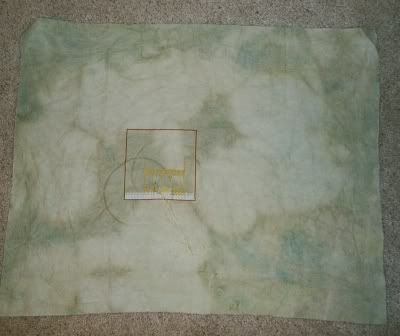 It definately turned out a lot different than I had anticipated, but since most of the fabric will be covered I don't think that it will be an issue. The color is very complimentary to the colors of the project. I may have a problem with some of the lighter greens but that can be worked around. :D The thing that my mind is not digesting yet is how big this is. This fabric is 22"h x 28"w, in other words IT IS HUGE. LOL I have never worked on something so big, but it's a lot of fun. The wonderful thing about this project is that each square is it's own pattern so it's like starting on something new each time you move to the next one. Only the border is going to be ultra boring and tedious.
I wonder how long this will take to stitch...should be interesting. :D
So is anyone else excited to see the new XMen movie? :D And did anyone watch the season finale of Lost? Lost was definately mind blowing last night...