Lost in a Fog
That's how I feel this week...not sure why but everything is slightly out of sync for me. I feel like the world is slightly to the left of where I'm standing and very fuzzy. And yet I have been able to get a lot done on my latest cross stitch project. It seems it's the one thing that I have perfect focus one. LOL

I think I am rushing through this one so that I can get to my next HUGE project. LOL, LOL
I also finished up the La D Da project last week. It turned out great. I left off the outside border because I'm making this into a cute little pillow.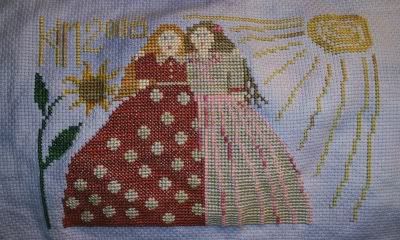 This was a fun project. Next time I'd leave off the polka dots, the dress doesn't really need them. ;)
I saw the duck couple again, but if they are nesting around here they are keeping it to themselves. They sure are cute though. :)
Hope your week is going great!