One for the Scrap Books
First let me share with you a beautiful Spring day where I live and an unusual story.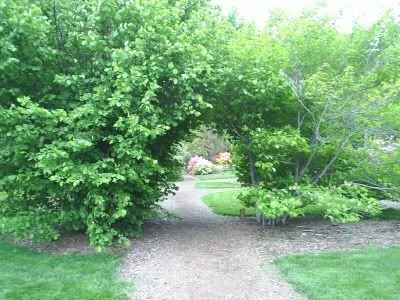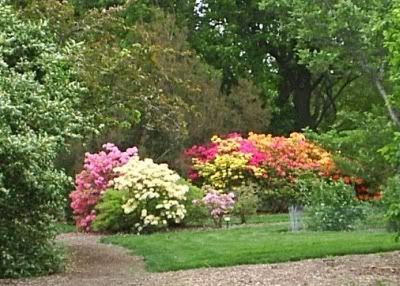 This is the garden right outside the building where I work. The first pic is a view through a luscious green arbor of a dazzling display of rhododendrons. The second pic is a closer view of the flowers. I was just stunned at the colors, just amazing!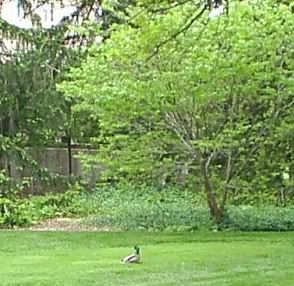 This pic is of a beautiful Mallard duck on the lawn right outside my window. There are a lot of ducks and geese around this area, so it's not unusual to see them. This one however caught my attention 1) cuz it was right outside my window 2) it had it's lady friend with it. It's obvious they were a mating pair and the female looked like she was trying to nest in the ground cover under some big pine trees across the lawn. Even this wouldn't have been so remarkable, except for a story someone told me a couple of weeks ago. We are an agricultural university and as such the students wander around studying the trees and such on the grounds (hence the spectacular flora). One of their notable projects is a rangeland right out the back of this building. They have a little mini prairie growing there and in the Spring they burn it off as part of a range management class. It's always a sight to behold with flames jumping into the sky and the fear that some people's cars might get singed (it's next to the parking lot, but no one's ever been singed). This year as we watched a duck came flying out of the grass just ahead of the burning. The story told later was that the duck came back after the burning and was obviously nesting her destroyed clutch. It was sad to think of her eggs destroyed and then today as I'm watching these two ducks I'm thinking "Hey! This may be the same ducks come back to give it another try." Now that would be quite the thing to have a few ducklings hatched in the side yard. LOL
In other news! I got an email from Lynne Nicoletti that her newest news letter is up. Half way through is a short article and pictures of my projects! She was very sweet to show both my Alice and Oak Island projects. Click here:
ALICE
and scroll down to see her article.
Take time to read the rest too, she's got some great information on some new DMC threads coming out along with other interesting news. :D
I also got more done on Forever Friends. (
Nancy
: The designer is La D Da and it's one of their newer patterns. It's an easy stitch and a lot of fun, go ahead and splurge it's worth it! ;D ) I have to say that La D Da is fast becoming one of my favorite designers. :D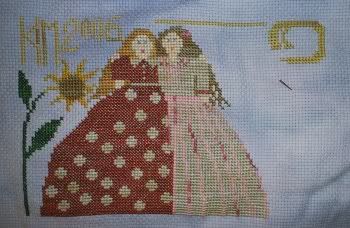 Do you or have you stitched with over-dyed threads? (Weeks Dye Works, The Gentle Art Sampler Threads, Six Strand Sweets, etc.) If so, what is your opinion concerning them? If not, why not?
I wanted to answer this question last week but didn't get a chance. As you can see from the project above I do use a lot of over-dyed threads. I think they are fantastic. I just love them. They are such a change from DMC which I find can be boring at times. I have stitched a lot of projects with them and find that they add an interesting effect. It's not always a variegated effect, but usually more of a distressed or aged look. I realize that some people don't care for this look but for me it works well. I never stitch them the way it's suggested (1 cross at a time) and I like it that way. When I use these I don't want uniformity, I want the uneveness and irregularity. I have read that some people are disappointed that they aren't more variegated, but for many of their threads I have never gotten the impression that (Gentle Art or Weeks) was trying to do a strong variegation, but more of a distressed look.
The only downside is that they do cost a lot more than DMC, 4 times as much for me and that keeps me from using them as much. If there was one recommendation I would have for these thread companies, it would be to find a way to drop their prices. I think a lot more people would be tempted to use them if they were less expensive. But if you haven't tried them and can afford too, I'd highly recommend them. You can use them in conjunction with DMC and achieve a fun look for projects where you want to substitute colors.
Well I've rambled on enough! Hope everyone is having a great week!