Looks Great, But Where's the House?
That's what I kept asking myself all weekend. As I stitched and stitched and stitched some more trying to make progress on HOHRH. LOL, LOL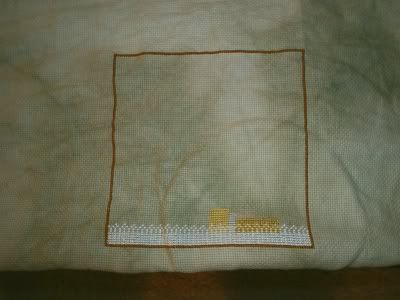 One thing is for sure, that border is PERFECT. It's what took the longest, working to make sure that I didn't miscount it, cuz if it's off the whole rest is off.
Then I set about working on the bottom of this square it's #6. My arm is aching from the effort to fill in that bottom bit. LOL It took forever....though I did manage to get a bit of the door done! The one thing that threw me off when I got to the house was, what is this symbol for supposed to be?? Well, after much frustration and having Greg look at it, we realized that it wasn't a mistake. It's just that after you stitch the whole house you are supposed to go back and backstitch over *every* stitch with a different color alternating the direction to give it some sort of unusual look. Personally...I hate it. So, therefore! I'm changing it! ;) I have decided to combine the two colors, the house color and the back stitch color to give it a blended look. It will be "similar" to the original intent but easier to achieve. So if you are stitching HOHRH pay attention to house #6 (the one with the black background) the color for the house is yellow with backstitching on top of it. For a while I thought the whole thing was done in quarter stitches, imagine how that thrilled me. LOL, LOL A BIG, GI-NORMOUS thanks to Greg for taking the time to *read* and understand the pattern. Trust me, it's easy to miss those backstitching instructions.
You can't really see the total color of the fabric, I need to get it into better light. But it's a green/tan mix that gives the fabric a worn out/moldy look. (Maybe moldy is a bit strong, but you get the idea.) LOL I like it, it goes with the project well. I dyed it especially for this project and it didn't quite turn out the way I had anticipated but it will work. I seem to have problems getting a proper tan color when dyeing. I am going to have to go a step up and get a better type of dye next time I want to get something in this color range.
Anyhoo, not a lot of house to see, but the fence is in and the door is started. I've got an ice pack on my arm (just kidding) and am ready to tackle more! :D
Happy Monday!