Hello There World!
Finally able to post after a long weekend and a bout of illness. Seems like forever since I updated...
Had a fun weekend, although it was HOT, HOT, HOT! Greg and I went to a semi-annual flea market in historic Brownville, NE. It's a huge event that encompasses the entire town. The entire main street of the place is wall to wal vendors. It's quite a sight to see. It's always fun and always some interesting things for sale.
As you can see the crowd goes on forever, or a 1/2 mile or so...whichever comes first. ;) I didn't buy much, nothing sparked my interest. But it was a fun day with my brother and his girls.
Obviously I worked away on HOHRH and got the first block done (except the black) and started on the second block. I'm half way through the second block, it's easier I think.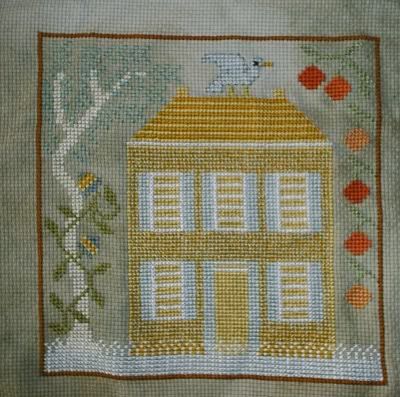 The only down side of this block is that w/out that black it's PALE. So I am still debating whether to go back later and fill in black. At this point I'm not interested in doing it soooo.... But other than that it looks very nice! The blending turned out great!
Here's the second block. I finished all the flowers up last night. I have to confess though that while the outside of this block is counted perfect, not so with the inside. :( Ah well, these things happen...to me...a lot... ;) But I think I covered it well and won't remember it later on when it's all finished. (laughs hysterically knowing I never forget these things) ;) Anyhoo! This block is moving along and it's an enjoyable project to work on. I am ever surprised by the colors though. Thinking things will be a certain color and realizing they aren't is tricky.
Well I hope everyone had a fun Memorial weekend! Now it's almost time for another weekend...how time flies. :D