The House on the Hill
Or should I say "houses"... LOL The little houses are such a relief to stitch after the mammoth house in the first block. Although I have to say I am getting a bit tired of orange, and that's saying something cuz I "love" orange. ;) I decided the next block I'm working on is the blue house, just so I can see something aside from ORANGE. LOL, LOL
I did have one problem that I *had* to fix. My block was off by one stitch. Normally a glitch like this wouldn't have mattered to me. But in this case if I didn't fix it then the blocks above and below it would've been off by one as well. So it's fixed and I am nearly finished with the third house on the hill. I did that one last night. They go quite fast when they are smaller. :D I anticipate being onto the blue house in a day or so.
I am enjoying stitching the houses, but I do have to warn y'all that the colors can be tricky. My first house on the hill, doesn't look exactly like the one in the picture. I can assume that is because I'm using the DMC conversion. However, the door looks totally different and I followed the pattern colors. It would appear that the model stitch doesn't follow the colors for the door on this little house. Not a big thing, but it you want yours to be *very* similar to the model it can be important. I am now consulting the model before I start stitching away just to make sure that I like how my colors are comparing and tweeking them if needed. For instance my house is a bit oranger than the model, which is the conversion I'm sure. If I had paid attention I could've subbed a darker orange and gotten the same effect as the model. It's a minor thing, but can make the difference in whether you love it or hate it. (Of course if you use the suggested silks, it shouldn't be an issue.)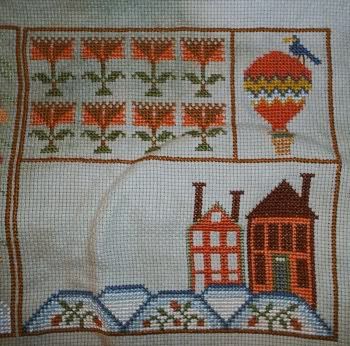 I also got my "Feed the Birds" project framed. Simple but nice I think. :D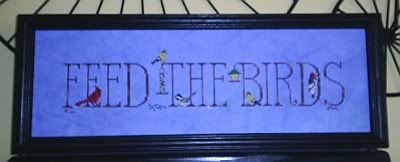 The black frame really makes the blue fabric pop. :D
I was saddened to learn of
Allison's
loss of her husband last week. She is definately in my thoughts during this difficult time. I'm sure none of us want to contemplate the loss of a loved one...I know it makes me appreciate the people in my life all that much more. Please send your kind thoughts to Allison.