On the Road Again
It's that time again! Everyone else is excited about the World Cup, but ME...I'm salivating over the Tour de France! (LOL) I mean what's not to love? Beautiful European vistas AND buff guys in tight shorts riding bikes... (LOL, LOL) Plus, I always seem to get a lot more stitching done during the tour than any other time. I'm sure it's cuz my butt is planted in front of the tv solidly for 3 straight weeks, but I like to imagine that these guys inspire me with all their hard work and dedication to their sport. (Okay, I confess it's the tight shorts.) ;D I had thought that this year's tour would be a bit boring since Lance Armstrong is gone and the other top riders would swoop in and steal the show. I just never imagined just HOW they would steal the show. Imagine my shock when 9 of the top riders were dropped from the tour as part of a doping scandal on the day before the race was to start. N I N E. And these are not insignificant riders these were the guys that were in contention to win. Let's just say it changed the whole race and each day that we watch you can see it. It's a wide open race, anyone could win and that makes it VERY exciting.
So we had a long weekend what with the 4th of July and taking a day off. So I did get a bit of stitching in and have made good progress on my latest house. Still would like to be faster but I'm only human. ;)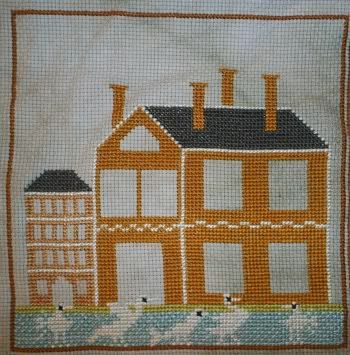 No major complaints on this block, the bottom was definately tricky but once past that it's just time consuming. The colors look good! I hope to speed through this one soon, but with a lot of demands at work we will have to see. :D
The weekend is close at hand and Pirates starts on Friday. I probably won't see it till Sunday, but I can't wait. The snippets I've seen look excellent.
Hope your week is going great!