Bribery
Yes it's true, even *I* will resort to it (bribery) to get something I want but am too lazy to do myself. ;)
This weekend we ended up at Barnes and Noble. I always dread going there cuz I know I will come out with a sack load of stuff that I could probably live without. This trip was no different. I found a cross stitch magazine that I just HAD to have. It had the CUTEST projects in it and I couldn't live another day without possessing it. ;) BUT do I have time to stitch any of them...that would be NO. I am still mired down by my HOHRH. Not that I mind being mired in it, but I am single minded in my pursuit to finish it BEFORE stitching anything else. (Yes, I'm anal that way.) So instead of lusting after this project and then putting it away to be forgotten. I begged, pleaded and then *bribed* Greg to stitch it for me. When begging and pleading doesn't work, new CD's will. (muu hhaaa haaaa)
So now Greg is stitching this delightful little witch for me: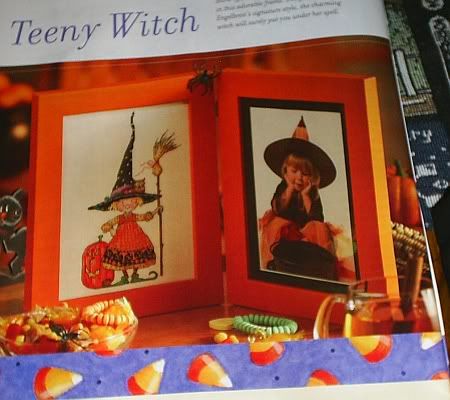 And this is his progress since yesterday: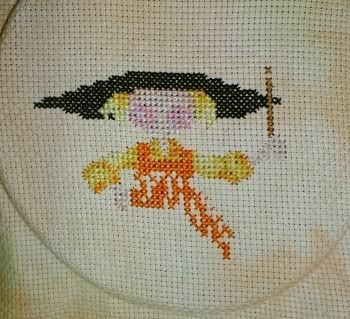 Let me just say right now that this is not as small a project as it appears. It's about 4x8 (all hat) and it's a lot of color changes, something just up Greg's alley. LOL And isn't he doing a fantastic job? YES he is. :D Thanks Greg! :X
It's just the cutest thing I've seen in a long time. It's designed by Mary Engelbreit so not a surprise.
I also got the roof finished on my house and a few details done. I'm nearly finished with block 1!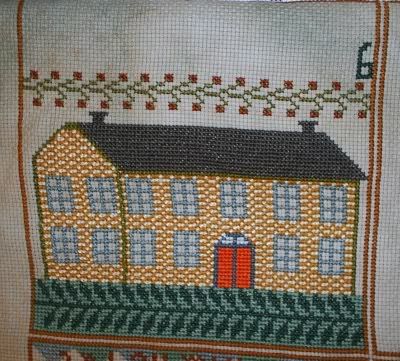 So all in all not a bad weekend! How was yours? :D