Requiring Repairs
That's what my house needs, some repairs. Somewhere I got off a bit on the white and now I am having trouble making the start of the roof look normal. At this point I would take normal. LOL
Sadly this is all related to the fact that my blocks are about 2-3 stitches wider than they should be. I counted and counted and counted but still they are off. So now I am paying for it with this type of problem. I am sure I will be able to compensate but this is one of the reasons I don't like stitching outlines around designs and will go out of my way to leave them off. ;)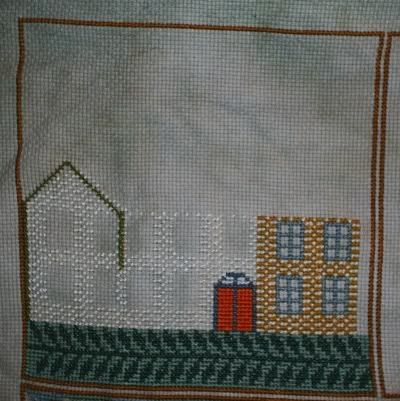 Other than that I made decent progress on this. I always think things look easier than they are and this house is no exception. Ah well, it's a learning curve. :D
You should see Greg's Evangeline! It's so stunning...amazing! This is definately *his* hobby cuz he is so good at it. :D Sadly I'll never be half as good.
Not much else going on, except that we finally got that project done here at work so things are more normal, now we wait to hear the outcome. I think waiting is probably worse than working to get something done, at least the work is a distraction. ;)
Hope everyone had a great weekend!