Finding Balance and Stash
Thanks for all the nice comments about Greg's project! He's been working on it about 3 weeks, but it's a HUGE project, something like 10x15 when it's all finished. :D Greg was a bit worried about the colors cuz they don't exactly match the picture on the package, but I think they are fine. He's switching to another project for a while so I'm not sure when we'll get another update pic.
I finally got my July 7 order from Stitching Bits and Bobs. This took forever, must've had trouble tracking down patterns?? The stuff that I ordered just a few days ago is already being sent out. I guess it pays to pick popular and just released stuff. ;) LOL
Here are a couple of pics of my stash: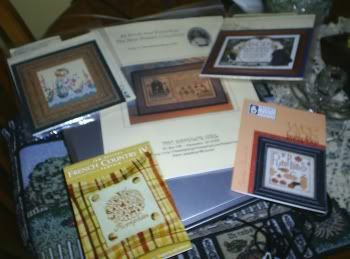 There is Pride and Prejudice (Sampler Girl), French Country IV (Trail Creek Farm), Wee Pumpkins (Heart in Hand), Emma's Garden (Lavender and Lace) and Children's Garden (Butternut Road)
Of all these Emma's Garden and Children's Garden were the best bargains. I found these on clearance at Hobby Lobby for $1.75 each. What a steal! :D I am most excited to stitch Pride and Prejudice though, I love these patterns from
Sampler Girl
. They are so FUN! :D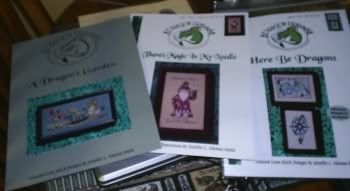 These three patterns are all from Dragon Dreams and Greg really wanted them. They are all so adorable and will be fun to stitch.
I also bought a new chest of drawers for my fabric. I had it stuffed into a basket (which was bursting at the seams) and needed more room. I had my eye on this one but initially it was just too expensive. It went on deep discount for 70% off, which seemed much more reasonable to me so I snapped it up. It works great, although I could still use a few more drawers (how does this happen ;p).
Lastly, here is an update of my repaired house from the first block on HOHRH. I had to do some creative "cutting and pasting" but I think it looks much better. I'm sure I could've left it as it was and no one would've noticed, except ME. LOL I'm just too fussy with these things and it was driving me batty. I won't have the same problem with the next blocks as the houses are more toward the middle and I will be better able to judge starting and stopping points. ;) I love the sort of patchwork effect of this house, even if it's a bit odd to stitch. The colors go well together, but I will be glad to finish and move to the next block. I think that I may take a mini break to stitch my newest pumpkin patterns though. I desperately want to make some new fall projects, but I don't want to stop on this project. These mini projects wouldn't take much time so it might be a nice compromise. I'm not good at working on multiple projects, too single minded I guess. ;)
Have a great weekend and stay cool!