In Which the Cat Says...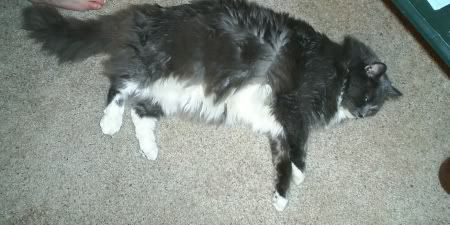 ...why are you bothering me, insignificant human?
Here is another update of my current block.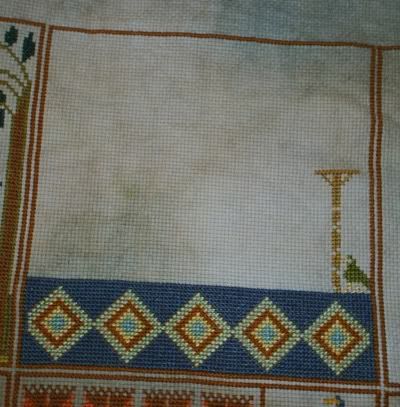 I love how those diamonds turned out, very striking. :D And so I decided to get another pic of the whole project's progress.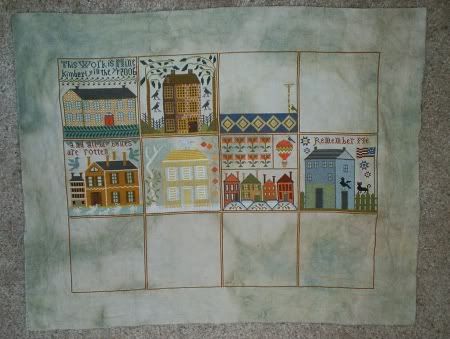 It's finally filling up! I never thought I'd get this top row finished and now it's really getting there. :D I do think though that I'm going to have to go back at the end to fill in the black on Block 6. It's just too pale and hard to see without it.
The latest SBQ:
How do you share your finished pieces with others? Do you frame them, scan and/or photograph them, or do you have another method that you would like to share?
Typically I just photograph them and put them in my gallery or on this blog. I also frame and finish them for display at home or as gifts. I really enjoy finishing things and bringing them to work to show to the ladies I work with. They get a kick out of seeing what I make and how I finish it. Showing off the work is a reward in itself, the praise I get keeps me motivated! :D
I got the following from
Jenna's
blog. Very fun and quite accurate about my personality. ;)
Dark Purple

To others, you seem a bit dark, mysterious, and moody.

In truth, you are just a very unique person who doesn't care what others think.

And you really enjoy your offbeat interests and friends.

You've decided that life is about living for yourself - simple as that.