I May Be Sad, But I'm NOT Crazy
In reference to a comment that said that if I am sad when I finish HoHRH I could always start on
VoHRH
. That would be a big NO. I have definately enjoyed my time with HoHRH, it's been difficult, trying and overall enjoyable. Would I care to repeat it in a slightly different form...no way. The thing I have learned about myself during this stitch (don't you love it when stitching teaches you something) is that I don't like doing projects this big. Now how would I ever know this unless I stitched something this big I ask you...I couldn't. But now I do. Lesson learned. ;)
Here is my latest update: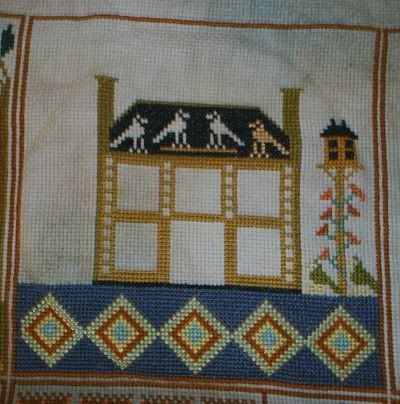 It's looking good, but slow going. It's so weird when at one point you are just cruising along and getting a lot done and then BAM not so much. It's one of the weird time space temporal disturbances I've run across in this project. But still workable. LOL I have definately decided to count this as 12 projects finished instead of one so that I don't feel so bad that I didn't get as many things stitched at the end of the year. ;D
Greg finished the witch and is now laboring over the backstitch. I am ever grateful he took on this project, I'm not sure I would've had the patience to muddle through. :D Because be forewarned there are a TON of 1/4 stitches in this project and when working on aida it's not always a cake walk. :D
Isn't she pretty? And I can HARDLY wait to finish her into a pillow, cuz I know (well at least I hope) that you all will DROOL over the fabric that I got for it. It's very lovely, in my opinion. :D
I got a head start on my Halloween decorating and did it on Monday. That was a lot of fun! And it looks so festive. I found one more trick or treater to go with the group, cuz everyone needs a kid sister tagging along. I will try to get pics to show. The ones I wanted to post came out fuzzy.
Hope y'all are having a great week! :D