So How Was Y*O*U*R Weekend?
Mine started out peachy...I was happily headed to the local apple festival in Greg's car and made it just outside of town when the "Service Engine Now" light came on. SOOOO of course I had to turn it around and head for a repair shop. In the meantime I try to get a hold of Greg...no luck. He wasn't expecting me to be home all day so he went off on a nice LONG walk. It was beautiful weather after all...just windy. I head to the shop and they tell me it will be over an hour before they can get to my car. (bummer) I was supposed to meet my mom and dad at the apple festival and needed to get home right away for when they called asking what happened. (They only use their cell phone for emergencies so it wasn't turned on.) I realize that it's not far, the weather is nice so I decide to walk home instead of waiting for Greg. Here's how it went: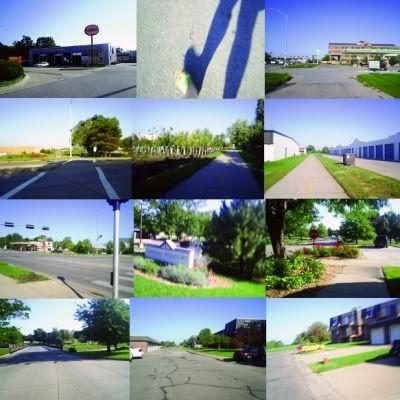 I had my camera with me because San had asked me to take pics of the apple festival, sadly I didn't get any of those but figured I might as well make use of the camera. ;)
It's a more than 1/2 mile from the service place to my house, not so far... The first pic is of our car at the service place and then progress onward till I get home. It wouldn't have been a bad walk at all if I had been wearing something BESIDES "frou frou" sandals. But I what could I do, this was an emergency after all... Fortunately there is a bike trail right behind our house and near where the service place is. So off I go treking along the trail with my funky sandals and purse. I think the walkers and bikers thought I was a bit strange. LOL But I made it home and realised that Greg had been there and (having NOT listened to all the messages I left him) went to get me from the service place. LOL, LOL Yes, it was just a comedy of errors at that point. Things finally get sorted out and I find out that they can't do the necessary repairs till today so no car for the apple festival (mine is falling apart and can't make it out of town). Needless to say I was bummed that I didn't get to do the apple festival but that's the way it goes... So I went out for a little retail therapy and then I worked on Greg's witch pillow yesterday.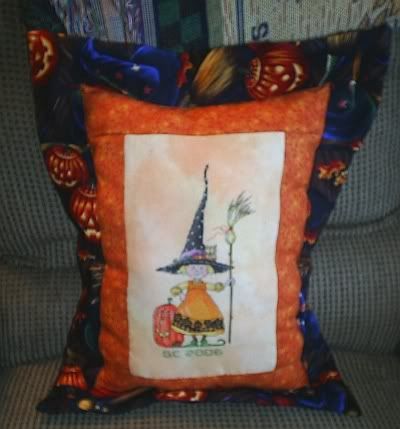 I love how this fabric came out! And the back is even better!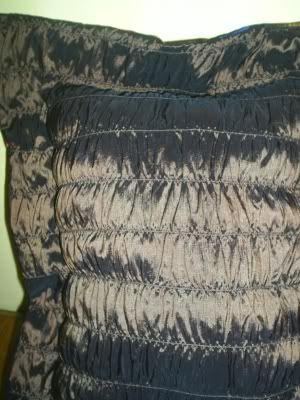 I found this fabric in the clearance bin! I've seen it used to make skirts but I thought it would make a great pillow and it did! Love it! :D
When I bought the fabric for the pillow I also bought this acrylic throw, just had to cut off the white excess and now I have a fun Halloween throw that I put on our bed.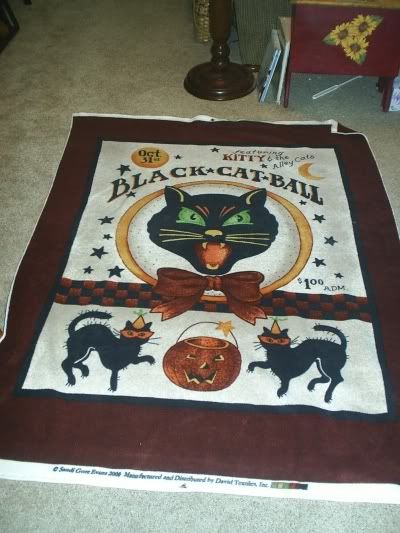 Oh and Greg wanted me to show you his culinary skills. Last night he made us turkey chili and it was quite delicious! He's quite the chef. :D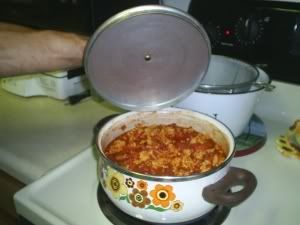 And lastly here is the update of my latest block: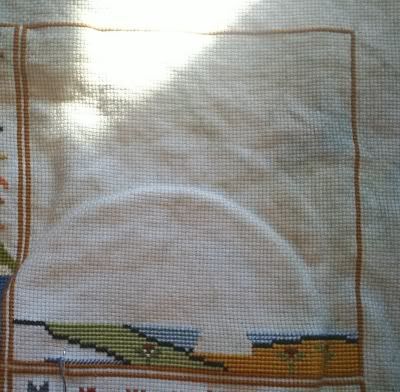 Quite the exciting weekend, on Friday night we had the tornado sirens going off at about 10pm, then the car goes haywire... But we still had fun and got some things done, sort of... LOL
Tonight I pick up Greg's car can't wait to pay that repair bill... AAAACCCCKKKK! ;)