"Ye Best Start Believin' in Ghost Stories..."
I love that line and it so fits what I have done with my trick or treater figures! I couldn't resist and HAD (yes it's a compulsion) to get a couple more. Now I have a set up that reminds me (loosely) of what it was like trick or treating as a kid when half the small town where I lived ganged up together to go out. And we always (of course) had to go through the graveyard. Dark, spooky, creepy...it's a kid thing, what can I say. LOL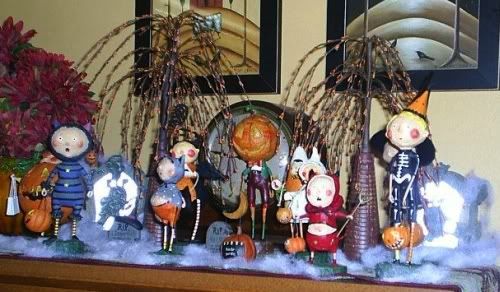 I found two big tombstones that light up at the Dollar store and some mini ones at another place. Then I got out my pillow stuffing and VOILA a *spooky, foggy, creepy* night. LOL Oh and I added another tree to give it balance. I haven't had this much fun setting up a display in ages. :D
Thanks for the great comments on my last post. The car did finally get fixed, although we had to take it to the shop on Friday as well cuz of another problem. And YES it did cost an arm, but not the leg just yet.
Vonna
, yes those sandals I had on are green and so comfortable but not especially suited to long distance walking. :)
Greg has been stitching away and here is his finished pumpkin!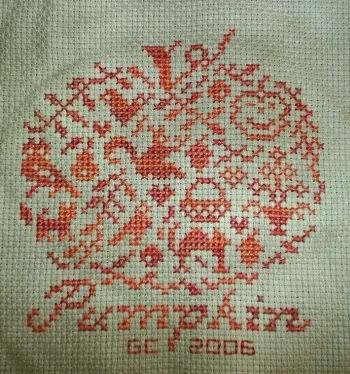 I will be making this into a pillow sometime soon, love this pattern. :D
This is his newest project. It's a Jack Russell terrier from Brenda Franklin. His latest comment is "I love working on black." I think he's a bit twisted. ;)
I don't have a current pic of my project cuz I'm not far enough along for a pic. Just too many distractions. But sadly I will have to set it aside for a bit after this block. I decided I would finish up this block and then start in on the Xmas projects for my co-workers. If I don't start soon I won't have time to finish them. This is a BIG deal for me, I have NEVER set aside a project to work on something else and then come back to it. So I hope that this break will not kill my enthusiasm to finish HOHRH...I figure if I finish this block I will have just 4 more and that will give me the incentive to come back to it. I hate stopping, but I really want to do these projects as gifts. So we will see how it goes.
So here is what we did for the weekend! Just for you San! Pictures of the Brownville Nebraska semi-annual flea market. Mostly pics of my mom, dad and Greg, but you will get the idea.
We have our favorite place that we always park, but I ask myself every year why the heck do we park on a hill? It's fine walking down, but back up at the END of the day?
It was beautiful, nice and cool and it started out sunny but got cloudy by the end of the day. Perfect weather for walking and poking around piles of stuff. :D Brownville is a historic little town located on the Missouri river. They even have their own paddle wheel river boat. I've been on it a couple of times, very fun. :D
The flea market is basically the length of the town on main street and all the vendors park along side the road and traffic is diverted. So you saunter along checking out the stalls to see if you find a treasure or two. You can get something to eat (funnel cake, hot dogs, barbeque and kettle corn) and keep going. It's a lot of fun we were there all day and boy did my legs ache from all that walking. :) I didn't buy much but I don't really go to buy things, more for the fun of being outside in great weather. There is always a vendor (in the Fall) with pumpkins and gourds for sale along the highway. We always stop there on the way back up the hill, yes we have learned from experience to buy those last so we don't drag them all over with us. LOL My mom stopped and picked out a pumpkin and some funky gourds to set outside the house. I'm not really into wart laden pumpkins so I passed. At the end of the main road (just past that hill) is the local winery. It's a beautiful old barn converted into a store. (Sorry I didn't have enough pictures left to snap one of it.) But they do have a pretty waterfall, I had one pic left so I got the trio standing and admiring it. :D
Hope you had a fun filled weekend!