Spooktacular!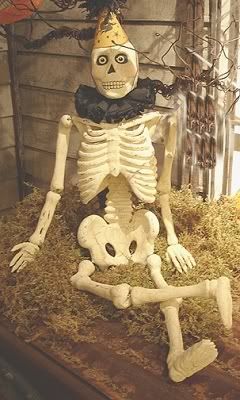 I ask you, how could anyone resist a face like this one? This guy (or gal) is just ready to PAR-TAY! LOL So of course I brought him (or her) home so he (or she) could party with the rest of my wacky decorations! :) The best part, I got it on clearance! I mean, what's not to love it's a giant skeleton (almost 3 feet tall) with a party hat! Yes, I know, my obsession knows no bounds... (big sigh) :)
As you can see I had a fun weekend rummaging around for more un-necessary Halloween decorations. It was a lot of fun and I did restrain myself and only brought this one item home. :)
I also did some stitching. The top of my latest block is taking shape!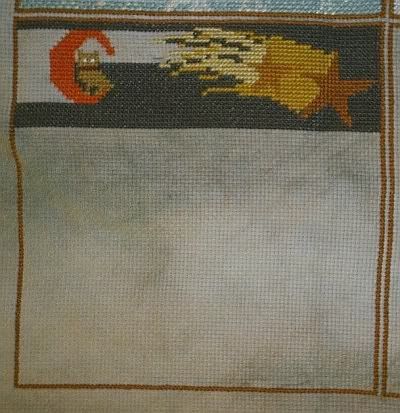 I'm not overly fond of "fill-in" stitching, but I think this looks great. I did substitute DMC 844 for black, I just think the black is so harsh looking. The only "grrr" moment was when I asked Greg how it looked and he said "Nice cat on the moon!" LOL, LOL FYI - It's an OWL.
Here is Greg's latest work. He's nearly done with the dog and I think he's glad, he's been grousing about the white since he started it. This pattern didn't turn out exactly as he had anticipated so he's glad he's almost done. ;)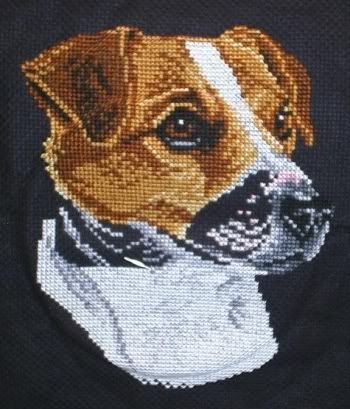 And lastly, I wanted to show you this really cool lap tray that my dad made us. It's specifically for stitching and has a tilt top. He added a little lip to hold our magnetic boards so it makes stitching a lot easier. I love the idea of the floor stands out there but I don't like stitching on rollers...believe me I've tried and we just weren't compatible. ;)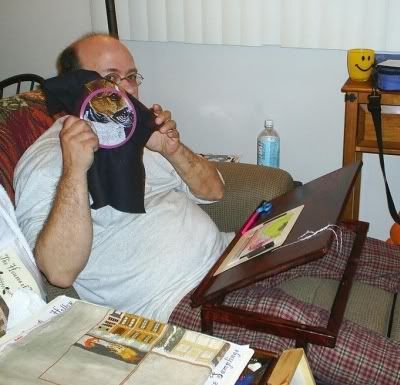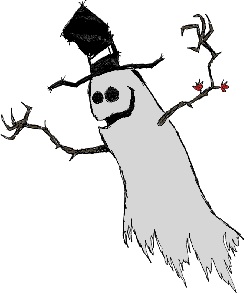 H A P P Y
H A L L O W E E N!!