Wild and Crazy Block Party
I'm halfway through my current house and I have to say, uh ... what's up with the colors? I went ahead and used the recommended shades and well...considering the time of year it sort of does remind me of an exploded pumpkin. Maybe the inhabitants of Block 9 had a WILD (exceptionally wild) Halloween party and this is the result, all the windows are coated with pumpkin slime... or not. LOL, LOL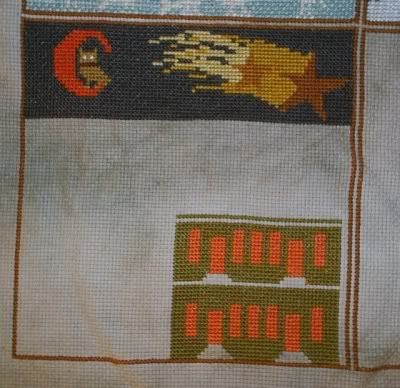 Actually I like the color of the house, it's just the orange that's a big off, but then this is all folk art and those colors never make sense. ;) I admit that I haven't gotten as much done as I'd like, too many chores last weekend. But I am plugging away at it.
I was also distracted by Dancing with the Stars and Lost and Heroes... Fortunately DWTS is almost over and Lost did a "fall finale" last night. Sometimes television is a good thing as it gives me a good background for stitching and sometimes it's a distraction, as in DWTS. It's hard to just "listen" to that show. ;) And Lost has so many weird subtexts that if you don't watch you will miss something. I imagine that now that those are gone for a while my stitching will pick up as I go back to easy to listen to history shows. ;)
Greg is working on a cute Garfield project.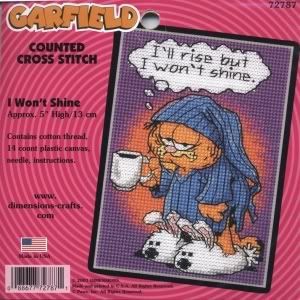 He's using a purple fabric that looks great with this, I'll try to get update pics soon. :D
Not much to report, except that we are onto the next holiday, Thanksgiving, but the Christmas decorations are up everywhere. It's a bit weird as it doesn't seem like it's time yet.
It's a beautiful day here, warm and the wind is blowing strong enough to stir up all the dead leaves and make them come showering off the trees. Very surreal experience to walk through a shower of leaves. :)
Hope your week is going great!