Featuring Baby Godzilla!
And the vote is in! Most people were torn as to whether the odd creature next to the cow was a rat or squirrel. The funniest comment was from
Lili
who called it a squirrel with a skin disease. LOL But my all time favorite goes to Greg who definitively dubbed it Godzilla (I added the baby part). Baby Godzilla who is offering the cow a piece of radioactive food so it too can mutate. LOL
I managed to finish this block on Saturday so now I'm down to *2* blocks! Woo Hoo!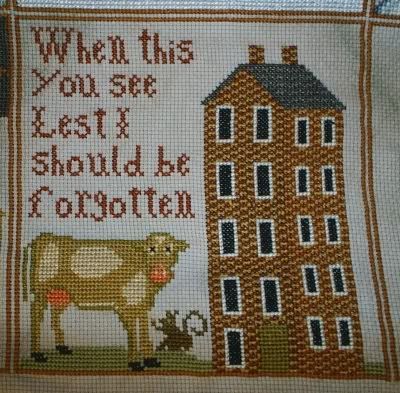 Here's an overall shot: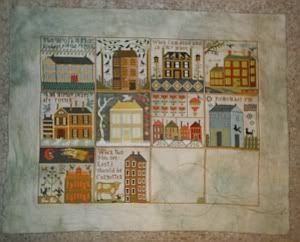 It's hard to believe that I'm working on the next to the last block! And it will be so weird when I go to pick out the next project. Plus I will finally have to clean up my mess of threads on the sofa. LOL, LOL
The next pic is for San. She sent me my Xmas/Bday present early and of course why wait to open it? LOL She sent me a beautiful hand stitched piece that has the tiniest stitches on it and is so lovely that I couldn't wait to display it, but I didn't want to just slap it up on the wall so Greg and I devised a plan to make it really stand out. Here it is!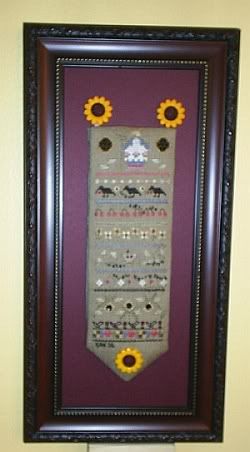 I had this frame in my stash and we had this mat board left over from another project, so he cut it to fit and then I used tacks to hold the project to the board. (It had little ribbons at the top for hangers.) Then I found these sunflower buttons (that amazingly matched Sans) cut the back off and glued them to the tacks. The stitched piece is basically "floating" on top of the mat. It looks very nifty, if I do say so myself. :) I have a spot of honor where it will be hung as soon as Greg puts up a nail for it (he's the "official" hanger upper in our house). :)
Hope everyone has a great week!