A Squirrel or a Rat?
So I'm working away on my latest block and I stitch this little critter and as I keep looking at it I wonder is that a rat? a squirrel? And YES, I do know the big brown thing is a cow... :) What do y'all think?
I didn't get as much done this weekend, but then I didn't have 5 days off either. LOL The cow is coming along and though it's a weird colored cow I like it nonetheless. :) It's still weird when I look at the whole thing and realize I have two full blocks to go. It's hard to believe how long I've been working on it. :)
I worked on the cow while watching a show on how they put together the Xmas window displays for places like Macy's, Nieman Marcus and Bloomingdale's. That was quite the show to see! The Nieman Marcus display in Dallas had an artificial tree made out of *shredded money*! Yes I know it sounds weird, but it was definately shredded money. LOL Not the way I would like to see money used, let's glue it back together... LOL, LOL
Greg helped Garfield find the bottoms of his bunny slippers and then we went to bed. ;)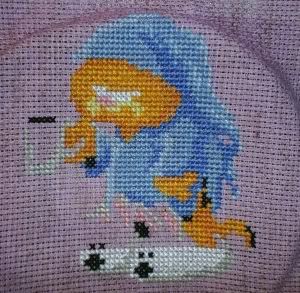 Xmas seems to be coming early this year, all our office celebrations are this week and next so we had to get out there and get our stuff organized. Which meant we had to go to the MALL! Reminds self - NEVER GO TO THE MALL AT THIS TIME OF YEAR AGAIN - Although I confess I did find a helluva bargain on a winter coat... ;)
I read that some of you are organized enough to have distributed caramel corn to the neighbors (
Vonna
) and I have my fingers crossed for someone who is frantically preparing for Sinterklaas (
Ann Marie
). :D Myself I'm always in that frantic "did I get it all done" mode, makes things more exciting. LOL, LOL And I could really use some of that caramel corn right now. ;)
Happy Sinterklaas Day for those that celebrate it!