Finally the Finish!
Greg did this pumpkin project for me WAY back in the fall and I never got around to making it into a pillow, I was lazy. Then
Lili
sent me a wonderful Xmas gift with lots of nifty patterns, some fabric and the most beautiful little Halloween project AND the fabric to finish it into a pillow. So now I had 2 pillows to finish
and still I was lazy. Finally I finished the Family Medley and it needed to be made into a wall hanging so that was the capper to get off my butt and get going. So I did. Yesterday I made 3 pillows and one wall hanging AND I even did some stitching. I know, I know it's amazing isn't it? Don't worry it won't happen again for 7 or 8 months. LOL, LOL

Lili's Pillow: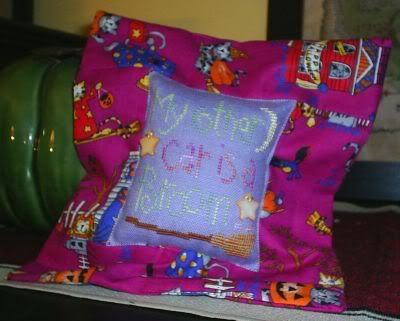 Isn't it SOOOOOO pretty? She picked the PERFECT fabric for to go with the project! I just LOVE it! And it turned out so great, no troubles with making it, just as easy as could be. :D Thanks so much Lili, I will always treasure this!

Greg's Pillow: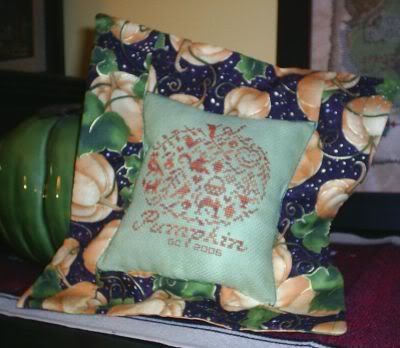 Greg helped me pick out the fabric for this one. I just fell in love it (way back in the Fall) and it does go perfect with his stitching. :D Thanks for making this one Greg! :X

Family Medley:




I found the fabric for this one in a little town about 50 miles away. I was shopping with my mom and there it was and it seemed so perfect for this project. It's not as well sewn as some of my projects (sadly out of practice) but still it works and has a homey feel that will work in the spot I want to display it. :D Greg got the hearts for this project from the stitching shop up the street, they add just the right touch. I decided to leave off the birds I didn't think it needed them. :D

My new project is Travel Memories from Dimension. It's an interesting project, small 5x7 and mostly done in half stitches.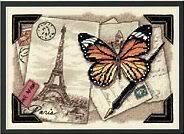 I just loved the cover picture of this it's so pretty and antique looking. So far (knock on wood) it's been fairly easy. I am a bit leery of the half stitches, not sure why but as I think this will make the project go faster but I always get weirded out by something different until I've tried it. ;) The thing I liked about this kit (and I DO NOT LIKE kits in general) is that everything was nicely sorted and easy to separate. I labeled little baggies and put the threads into them. The chart is fairly easy to read, although they could've used a few more colors to mark the symbols. I think because it's small it makes it easier. My NEXT *NEXT* project will be the challenging one, but let's not talk about it yet. ;)

Here's my work as of this pic: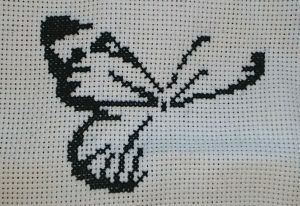 I actually have finished a lot more, the black outline of the butterfly and the pen so it does go quickly (when you don't make mistakes). I had to frog about half the butterfly when I realized I had put in one too many lines.

Here's an update of Greg's bicycle: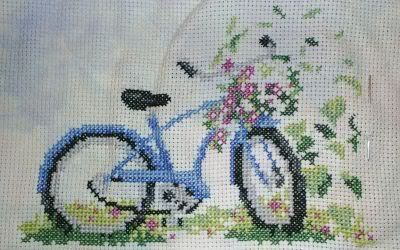 It's coming along nicely and would probably be finished but he's been distracted by other things, like shoveling snow. (don't ask) ;)

Well that's it for now! We got another 6 inches of snow yesterday (lucky us) and so it's definately feeling wintery and blah. I am ready for Spring. :D Have a great week!