Why Does This Fabric Look So Funny?
This is what I asked myself when I started my new project and then I realized, it's cuz it's 14 count and I've been working on 16 count for the last 7 months (it might've even been 18 it's been so long I forget). ;) The holes in the fabric suddenly seemed weirdly large, even after a couple of days stitching on it I still haven't readjusted. Now I understand the reaction people who are stitching on small count linen/evenweave have about 14 ct aida. LOL, LOL
I am now working on Family Medley by Heart in Hand. It's a simple little project that I am not moving along very quickly on because I am lazy and haven't really tried very hard to go any faster. LOL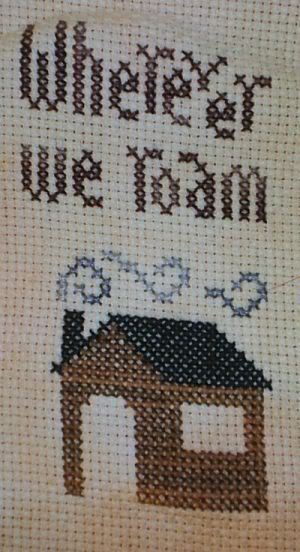 Once I put some effort into it it won't take that long. And I love the sentiment behind this one. I have something more complex lined up next, which should be fun. :)
Greg is working on The Journey by Dimensions. It's a nice bicycle project that says "It's All About The Journey" I like it, very bright and cheerful. :D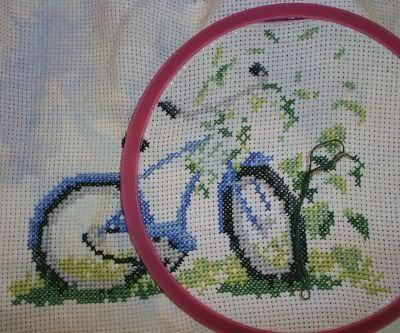 You can't tell but the fabric has a sort of cloudy day effect to it that is very sweet and compliments this one nicely. He always does a great job with his projects.
I'm glad it's Friday and that we have a 3 day weekend, the last one until May, so I will try my best to enjoy it. :D Even though we are supposed to get 6-8 inches of SNOW. But I have dediced to be evil and wish for it to go south and miss us (yes I am bad and I'm not sorry). ;)
Hope you all have a great weekend free of ice and snow. :D