Happy (Just Past the) New Year!
I hope everyone had enjoyable Christmases and New Year's! Christmas here was quiet and New Year's was even quieter cuz we got 8" of snow on New Year's eve. Talk about a shock to the system, it just kept coming and coming and coming, like the Engerizer Bunny. LOL Fortunately we aren't big partiers so we didn't miss any celebrations, but I felt bad for those that did. Weirdly enough it's been so warm that a lot of the white stuff has all but melted away....of which I am glad.
I got lots of nice gifts, some from far away (Lili and San thanks a bunch). And since my birthday is January 2, I also got a second round then. It was so great I felt really overwhelmed by all the nice things I got from Greg this year. :)
I also finally got busy and finished the next to the last block of my HOHRH! And I'm nearly done with the LAST block. Sooooooo close!
I love the angel in this one, so pretty and the willow trees. It all turned out very nice.
Here's an overall pic: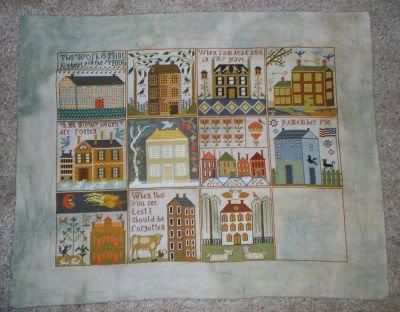 I can't believe it's nearly done. I'm in shock! I won't know what to do... LOL
Here's what I have done on the last block:
This one was the easiest that I've worked on, the letters are just simple and the small motifs are fast to get through. Plus I love the saying even if it is a bit morbid. :)
And we have a frame for it, but the darn thing is HUGE! I think we are going to have to scale it down or it just won't fit our place. I just hope the fabric fits in the opening or we will have to start from scratch...actually we are contemplating that anyway just to get the whole thing a bit smaller. I'm sure it will all work out though cuz the idea for the frame is great and Greg did a great job designing it, I just didn't realize how big it was going to be. LOL Like I told Greg I just really wanted to show it off, but got carried away...big surprise there. LOL
I already put all my Xmas decorations away and even had to get a bigger tub for them (thanks to Greg for that! :D) and of course since I was putting some away why not just get out the Valentines stuff. LOL What can I say I love holiday decorations. And I have fun projects that I stitched last year and the year before that I can put out which is so great!
Well not much to say I guess except I hope everyone is having a great week! Now off to read more blogs!
Labels: new year